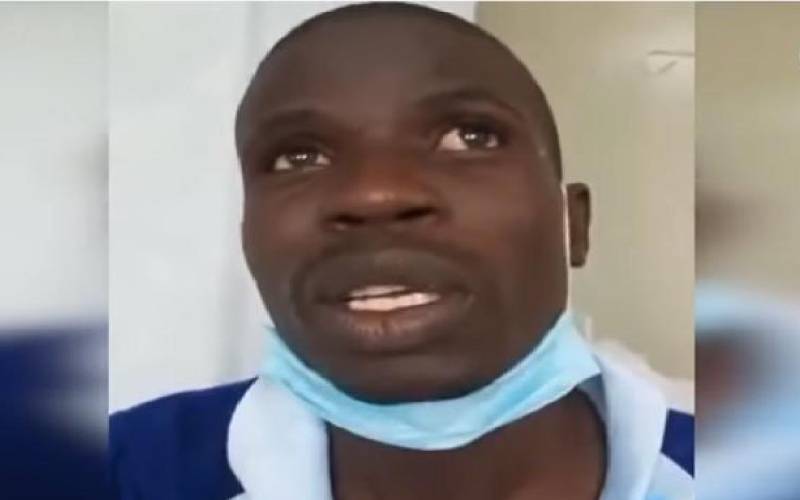 When Kelvin Aura heard that he would be held in a police cell after being discharged from a Homa Bay Covid-19 treatment centre, he was disillusioned. Aura (
pictured
), who was discharged on Saturday, had spent 46 days in an isolation ward, and could not understand the turn of events. The 27-year-old is the driver who ferried eight mourners with an empty coffin to attend a burial at Kadede village, Kamser Seka Sub-location, Rambira Location in Rachuonyo North Sub-county in April. Since then, he has been isolated at Malela Covid-19 treatment centre in Ndhiwa Sub-county. When Aura was released at about 11.30am, he knew he would go for a 14-day self-quarantine in his Nairobi home as instructed by medical personnel. His second tribulation began when he arrived at Kendu Bay Police Station to pick his vehicle. The vehicle had been moved to the police station when he was in quarantine at Homa Bay Kenya Medical Training College in April. Aura said while at the police station he was told he would be charged for giving false information. "I fainted after realising I was being held instead of going for self-quarantine in my house for 14 days as medics had instructed me. It is then that I was released to go to the home where I had ferried the mourners," Aura said.
Directorate of criminal investigations
He was released and instructed to report to the office of the Directorate of Criminal Investigations in Nairobi on Tuesday (today). Armed with the appropriate documentation from health officials, the youth was allowed to travel to Nairobi. "I do not know why I am being charged. I only expected to be in self-quarantine," he said. Aura, a resident of Mumias in Kakamega County lives in Nairobi where he works as a driver for a transport firm. He decried financial challenges orchestrated by his isolation. "I have not paid two months house rent of Sh30,000. I have only Sh2,500. That is why I am appealing to lawyers and human rights organisations to rescue me," Aura said. At the treatment centre, life became unbearable for him due to solitude. His being asymptomatic made him deny that he was coronavirus positive. Aura objected his condition by recording a video which went viral, saying he was not sick. Instead, he appealed to the government to release him from the centre. "I had no signs of illness yet health professionals were telling me that I was coronavirus positive. I was lonely and desperate," Aura said. The denial forced county health officials to counsel him. "They counselled me until I accepted that I was Covid-19 positive. Today, I thank God that I am negative and I am out of the treatment centre," Aura said. He said the medics treated him well. "They fed me well and gave me drugs. Anything I required they provided for," he said. County Health Executive Richard Muga said Aura's sixth and seventh tests proved he is coronavirus negative. "His first five tests showed he was emitting the virus. The latest tests show he has recovered," Prof Muga said. Rachuonyo North Sub-county Police Commander Sarah Chumo said she was making inquiry on Aura's detention at Kendu Bay Police Station.