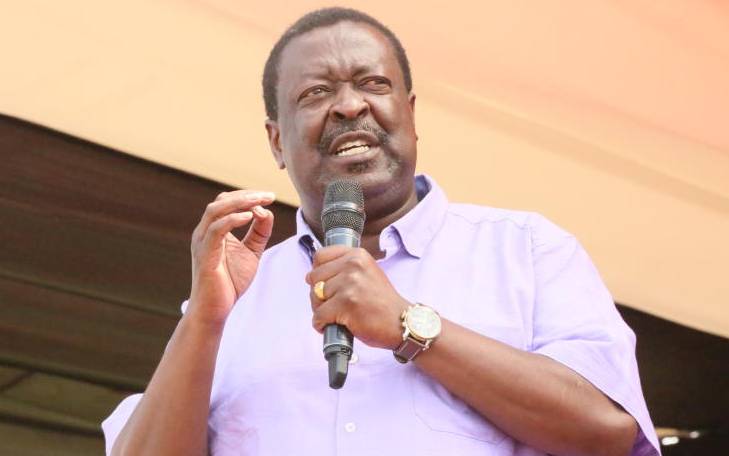 ANC leader Musalia Mudavadi has alleged the removal Bungoma Senator Moses Wetangula as Ford Kenya party leader is a ploy by some politicians on a warpath to kill other parties. Mudavadi
(pictured)
claimed that the National Executive Council that met on Sunday morning to remove Bungoma legislator from party leadership comprised impostors sent to stage a coup d'etat to destabilise the party. Without naming individuals, Musalia further claimed that a leader of NASA Coalition member party had conspired with a leader of Central Organisation of Trade Union (Cotu) to install puppet leaders in Ford Kenya and clip the wings of the party.
SEE ALSO: Wamunyinyi takes fight with Wetang'ula to court, cites mischief
"I am aware that this mischief has been in the making for some time now. It is calculated to invade and destabilise all independent-minded political parties," Said Mudavadi in a statement. "The mischief has been escalated at a number of meetings led by the leader of a NASA member party, whose objective is to destroy and dominate everyone. In this, they are aided by Secretary-General of Central Organisation of Trade Unions (Cotu). Mudadavi's reaction comes just before the dust settles on the battle for party leadership pitting two factions in the Ford Kenya party. Earlier on Sunday, a NEC meeting resolved to replace Senator Wetangula with Kanduyi MP Wafula Wamunyinyi as the interim chair of the party. The NEC cited gross misconduct and inability to lead the party as some of the reasons for ousting Wetangula. But barely after two hours, Mr Wetangula addressed a press conference reaffirming that he was the bonafide chair of Ford Kenya.
SEE ALSO: Jupiter's moon Europa 'could be home to alien life', NASA study claims
He blamed his removal on sponsored forces and NEC meeting that he termed fake. "It is so sad that a group calling themselves NEC assembled in some five Star hotel and airlifted fake party members from as far as Kisumu and Mombasa to come and carry out an illegality," said Wetangula. He further declared that party officials who had attended the NEC meeting which resolved to remove him from party leadership position were all suspended. "All these coup plotters led by Bungoma Governor Wycliffe Wangamati, Tongare MP Dr Eseli Simiyu and Kanduyi MP Wafula Wamunyinyi have all been suspended until further notice," he said. In his announcement, he said that Dr Simiyu had been replaced by Kiminini MP Dr Chris Wamalwa as party's Secretary-General.