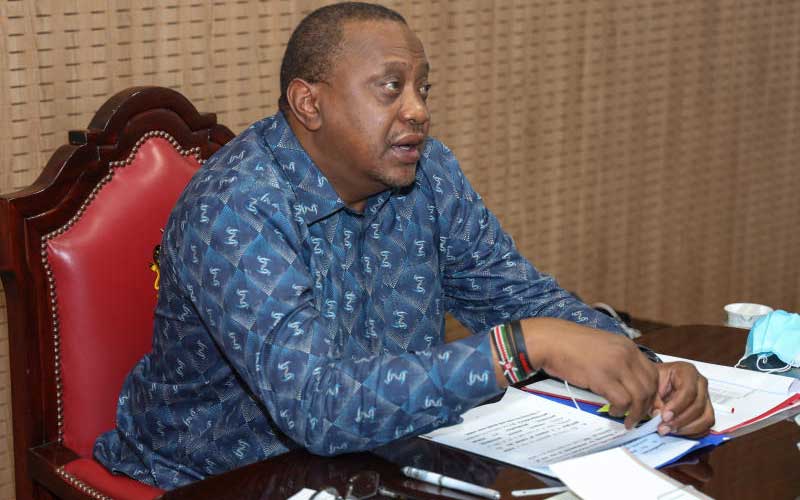 President Uhuru Kenyatta
(pictured)
will attend a continental summit to assess the Covid-19 impact on African, Caribbean and Pacific states. The President-in-Office of the Organisation of African, Caribbean and Pacific States (OACPS) and President Uhuru Kenyatta are on Wednesday expected to convene the first ever Extraordinary Inter-Sessional Summit of the Heads of State and Government. The virtual Summit, which is hosted by the OACPS, aims to assess the current global Covid-19 situation, and in particular, the effects and consequences to the members of the OACPS.
SEE ALSO: New study warns virus may fatally harm the brain
In addition, members will identify opportunities for global solidarity and action. Kenyatta on Friday announced plans to host an extraordinary summit to deliberate on the effects of Covid-19 on the people and the economies of member countries. Themed "Transcending the Covid-19 Pandemic: Building Resilience through Global Solidarity", the Extraordinary Inter-Sessional Summit will consist of a dialogue by the Heads of State and Government of the OACPS, which will be followed by a high-level exchange with global strategic and development partners, who will be key to achieving the objectives identified by the Heads at the summit. Members of the OACPS share several unique challenges which have been intensified by the Covid-19 crisis. The pandemic threatens recent advances in health and progress towards global sustainable development goals. Job losses and an increased debt burden are some of the immediate challenges. Members of the OACPS are among some of the poorest countries in the world and are, as a result, more at risk to the devastating socio-economic consequences of the pandemic. The vulnerabilities are equally high for the Caribbean and Pacific, which mostly depend on single sectors, especially tourism. The Covid-19 crisis also has the potential to spark a food security crisis especially in Africa, with agricultural production potentially contracting by between 2.6 per cent in an optimistic scenario and up to seven per cent if there are trade blockages.
SEE ALSO: You can now apply online and tie the knot in style
There is therefore an urgent need to work with global health leaders, partners and governments to ensure that the global response to Covid-19 includes lessons learned from other epidemics and communicable diseases, particularly as it concerns the protection of vulnerable populations. Held simultaneously across the four time zones in which the OACPS operate, the summit is expected to focus on three pillars, which include building resilience, keeping economies functioning and rebooting for a strong recovery and boosting global solidarity and deepening partnerships. At the conclusion of the summit, the OACPS leaders are expected to endorse a communique based on the mentioned three pillars. Kenyatta became the OACPS's head in December 2019. In a recent communique, he said the summit will make specific pronouncements on intended approaches that will ensure that the effects of the pandemic have minimal economic disruptions.