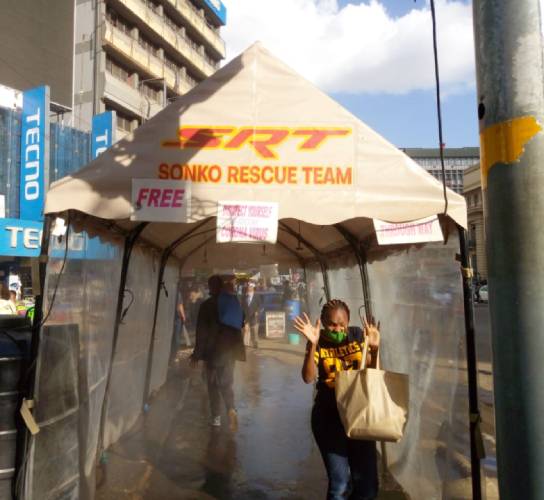 You will find Covid-19 disinfecting booths pitched strategically in designated parts of Nairobi City. One by one, people stream in and out of the tent. Women cringe, men strain to maintain a straight face as the cold misty spray from jets emanating from the walls of the tent, with disinfectants hit them gracefully. After watching for a minute, I also decide to jump in. At first, I too recoiled like a snake as the spray engulfed my body. I span around to get an even coat. For a few seconds, I am covered in a blanket of mist, swooping, and skirting all over my clothes.
SEE ALSO: This is mere witch-hunt- Sonko
Several other people are behind me, keeping some distance. Others think otherwise. They turn away. From a distance, we looked like cows in a ranch, filing, ready to go through a cattle dip. All of us line up for this anti-coronavirus wash. Afterward, everyone went on with their own businesses. Confident of having been fully armed against the Covid-19. Others, idle, decide to take a walk in and out regularly. You would say, a safe way to be idle. The walk-through sanitizing booths are the latest arsenals employed in the fight against the coronavirus in the city of Nairobi. The Sonko Rescue Team booths have stood the battles in and out of court, in the quest to combat the lethal virus. Despite the cringy experience, the booths have been very critical in putting a spirited battle to keep Covid-19 at bay. "We hope that the booths will be an element in combating Covid-19. We have stationed them in town for free so that the passersby can sanitize themselves, "said Ben Mulwa, the Personal Assistant for Governor Mike Sonko.
SEE ALSO: Mike Sonko's half a billion suspect cash- ARA
However, the wrong use of the booths has had people throw caution in the air. Many disregarding other Ministry of Health guidelines as a result. While Public Health officials have belabored on social distancing, sanitizing, and wearing of masks, some after using the booths leave, with the impression that they got a comprehensive insurance cover against Covid-19. "While fumigation is good in killing the pathogens on clothes and other parts of the body, users should be keen not to flout other rules. Fumigation is fumigation. It is not a substitute for maintaining social distancing or washing hands with soap and water," says Kepha Ombacho, the Director of Public Health. While Dr. Ombacho acknowledges the role played by disinfection, he advises that the users must observe all other guidelines put down by the World Health Organization in leveling the Covid-19 curve. "It is actually worthwhile to sanitize your hands before or after getting into the booth. This will make sure the user is fully safe after the spray" adds Dr. Ombacho