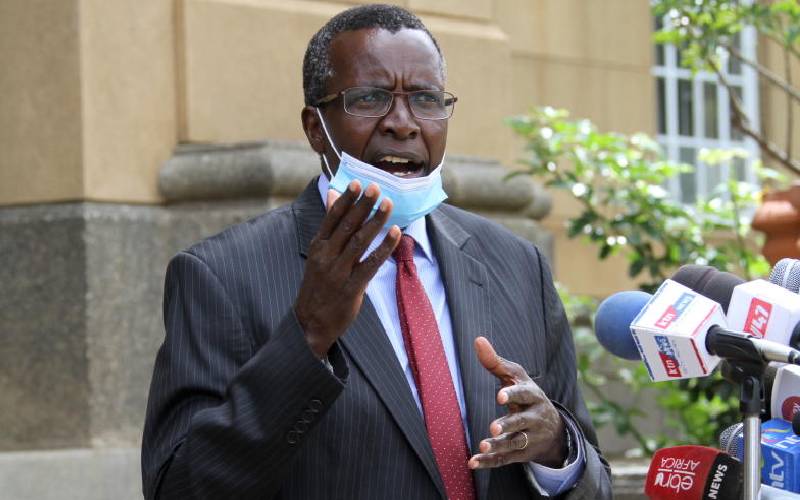 Chief Justice David Maraga (pictured) has warned of a surge in litigation of cyber-crime related cases in the future post-Covid-19 period due to the high uptake of technology.
The CJ was speaking during a virtual judiciary training on Cyber Crime and Electronic Evidence.
He said the Covid-19 pandemic has seen a tremendous rise in the use of online platforms for sectors such as education and learning, financial transactions, and even the justice system to minimize spread of the virus.
Maraga was concerned that inevitably, the surge in the use of online platforms increases the risk of cybercrime, online scams, and other web crimes.
"While technology presents efficient and easier ways of carrying out transactions making life easier for all of us, technology misuse is also a reality.
"The post-Covid period will translate to a lot litigation of a cyber-crime nature; perhaps more than has ordinarily been before the courts. This makes cybercrime and electronic evidence a pertinent issue in Kenya," said Maraga.
The CJ explained that the Judiciary is not exempted from cyber threats given that cases are now being filed, heard and determined virtually.
"As judges we are also exposed to a host of other challenges such as cyber security, hacking and social media in our day to day use of technology, thanks to the digital age," he added.
Maraga also praised the ongoing training on cybercrime in collaboration with the Judicial Training Institute (JTI), saying they were important in relation to legal jurisprudence.
Most crimes committed today and their investigations as well as preservation of evidence involves aspects of technology.
He further revealed that the Judiciary will be undertaking its training sessions in the next financial year virtually.
"While the Covid-19 situation exposed our gaps in leveraging technology for justice, our ICT directorate has taken the challenge and we will, in the coming weeks, see major changes in how courts will operate," stated the Chief Justice.
A global report by the Centre for Strategic and International Studies (CSIS), in partnership with McAfee, carried out in February 2018, focused on the impact that cybercrime has on economies worldwide.
It reported that close to USD 600 Billion is lost annually to cybercrime, up from USD 445 Billion in 2014.
A report by the National Kenya Computer Incident Response Team Coordination Centre indicates that Kenya is among top 10 countries on the continent with the highest number of people exposed to cybercrime.
According to the report, 26.6 million cyber threats occurred in the country between April and June 2019.
AGA-Africa Board Member Markus Green who was also part of the training programe said most traditional crimes have now slowed down and switched to online scam.
He brought to the fore that cybercrime accounts for losses worth Sh21 billion in Kenya annually.
Green reiterated the need for the two-day workshop, noting that it was aimed at sharing knowledge on the tools and techniques used in the detection, investigation, prosecution of cybercrime and the effects of emerging technologies in committing these crimes and evidence collection.