Commentary
Ruto should have faith in Murathe, but must not believe him.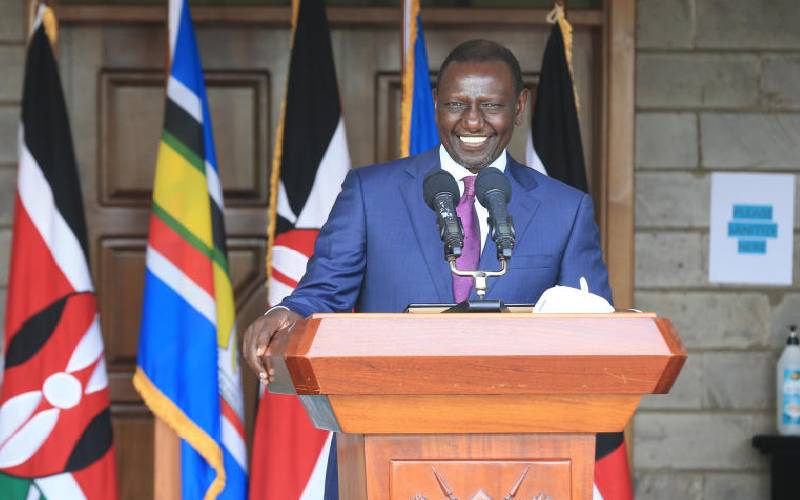 Lions do not like rain. To the big cats, rain is not an energy giver. A rained on lion loses liveliness; it quits, chickens out and shrinks. Deputy President William Ruto's (
pictured
) captors in Jubilee are telling us that all of a sudden he has transformed into a bruised reed and a smouldering wick. Makueni Senator Mutua Kilonzo Jr and Nyeri Town MP Ngunjiri Wambugu argue that all along, Ruto's numbers have been a red herring and ethereal. Jubilee Party Vice Chairman David Murathe has continuously dismissed Ruto as a political insignificant; although Uhuru has been using political war tankers to dismount his deputy's foot soldiers.
SEE ALSO: Uhuru says completion rate of projects will be used as KPI for CSs, CASs and PSs
Murathe says Uhuru's Jubilee won't impeach Ruto. Instead, the party has categorised Ruto as its competitor in the 2022 presidential race. Ruto should have faith in Murathe, but must not believe him. Either Jubilee is floating decoys, or they are genuine. If they are playing decoys, then it is too late – this is not the time to conceal their intentions. Every bird of the air and crawling creature knows that Uhuru has already unsheathed his sword against his conspirators, whose chief priest is Ruto. Building sieges Murathe's argument that Uhuru is against Ruto's impeachment might explain why Uhuru is de-escalating the kwekwe tune. So, is Jubilee unable to totally crush their competitor? Are they already worried by Ruto's stillness? In a political battle, an opponent who is ready to face death can achieve anything. If that is so, could Ruto's stratagem be cooking? Note that Uhuru has said that he won't defend Ruto should corruption ghosts pursue him – we should keep watching all night long for this aphorism.
SEE ALSO: President Uhuru erred by opening places of worship- Atheists
Uhuru has also said he won't help if Ruto resigns. Truth is Ruto will be strongest outside and weakest inside the government. Thus, it will be safer to lullaby Ruto into slumber inside the government. Outside, he could snowball into a formidable force, building sieges strong enough to circumvallate. However, Ruto could be the strongest candidate outside the 2022 ballot, but weakest if he on the ballot; unless he resigns like yesterday. Ruto should take note. We have witnessed Ruto's army fall as he whispers, shalom, shalom! Has President Uhuru seen the whole army on the side of his deputy? Or is he like the biblical Gehazi who could not see the vast army on Elisha's side? As things stand now, Jubilee must revisit strategies for winning in the game of checkers. In checkers, you should get worried when your opponent is pushing pieces for you to capture, unless you are playing with an inexperienced beginner. Ruto is not a beginner in political gimmicks. I have seen Ruto use forced moves on Uhuru and seemingly sacrifice his pieces in the game. He has kept his peace as Uhuru captures and hordes his pieces. In most cases, sacrificing checkers paves the way to king or capture the opponent's pieces sequentially. We are yet to know why Ruto has allowed Uhuru to capture his checkers while keeping his peace.