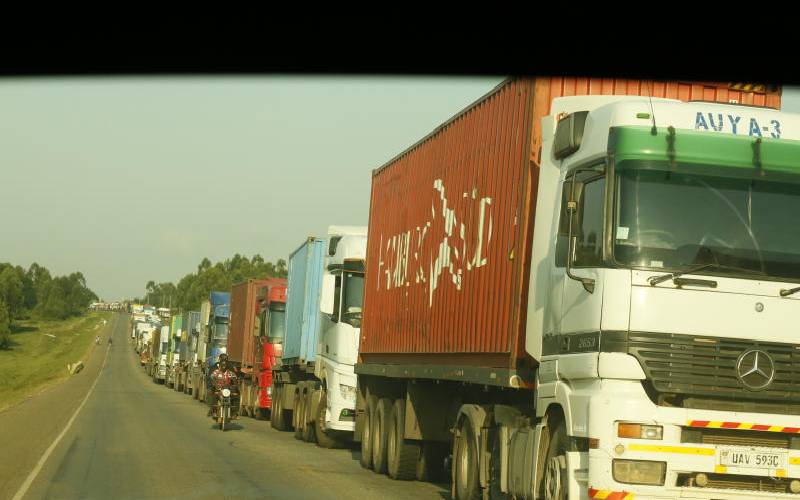 A protest by truck drivers at the Kenya-Uganda Malaba border has paralysed transport for several days now. Attempts by Kenya's Transport Principal Secretary and his Ugandan counterpart to resolve the impasse failed on Monday. Kenyan truck drivers are protesting the alleged torture and murder of their colleague by Ugandan soldiers two weeks ago. At the best of times, relationships between Kenya and its neighbours Tanzania and Uganda appear lukewarm and guided by mistrust, but coronavirus has worsened the situation. Last week, Tanzania reacted sharply to Kenya's decision to close their common border as one of its Covid-19 containment measures. Tanzania's reaction targeted Kenyan truck drivers. However, quick action by Presidents Uhuru Kenyatta and John Magufuli defused the situation.
SEE ALSO: Madaraka Express passenger service resume on Monday
It is unfortunate that Covid-19 threatens the relationships between the East African states when it should provide the impetus for greater regional cooperation in managing the pandemic. Truck drivers, like anybody else in the world, are caught up in the coronavirus pandemic. It is dishonest, and therefore unfair to target and stigmatise them in the fight against the virus. Importantly, claims of torture and harassment by Kenyans truck drivers should be investigated and pursued to their logical conclusion. Coronavirus should not be the reason we lose sight of our regional goals in terms of enhanced trade and integration. Uganda is Kenya's largest Africa trading partner. Kenyan exports to Uganda in the first quarter of 2019 stood at Sh21 billion while imports stood at 13.95 billion. Cultivating good relationship with Uganda is therefore mutually beneficial.