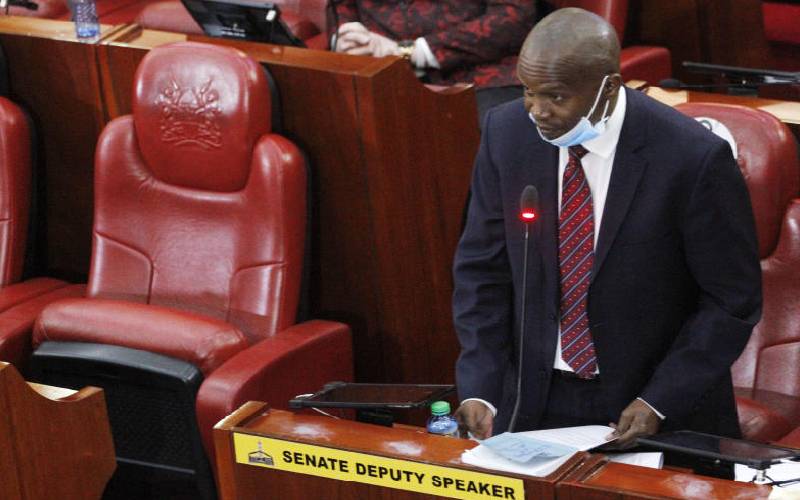 Days before senate Deputy Speaker Kithure Kindiki was ousted last Friday, Deputy President William Ruto had directed a group of Meru MPs to make a tactical retreat. The Standard has since established that when the MPs met Dr Ruto a week ago, he beseeched them to keep off possible fight back that may turn out to be destructive. Pundits believe it may have been at this point that the deputy president approved the 'tactical retreat' stance popularised by his camp in difficult times. Ruto met the Meru MPs upon request by his close ally Senator Mithika Linturi. The meeting, organised at short notice, was to establish his feelings on the impending removal of a key ally, who has stuck with him for over a decade and even represented him during the International Criminal Court case.
Vote of confidence
This MP said the DP received the group warmly and was very jovial to see loyal troops from an enthusiastic support bloc confiding in him. The DP cracked a few jokes though he appeared 'largely deflated and not the usual vibrant man', according to an MP, who was in attendance. Linturi is said to have put up a very convincing case of how the Meru group should officially make it clear that if Kindiki was removed, they would openly declare their support for Ruto in future political engagements. "His speech was largely the script at the Senate on Friday during the ouster motion, but he repeatedly referred to the 'promise' to Mt Kenya East (Meru, Embu, Tharaka Nithi) by their western cousins that the future vice president under a Ruto presidency should be from this area,'' said another MP.
Slow down
Few other MPs spoke at the session but the DP is said to have praised them for flying his flag high in Meru. Ruto then calmly urged the legislators not to escalate the party rows, but let the president have his way, as this was still 'Uhuru's government'. "Don't waste your time opposing the changes because the president is the national and party leader. It is his government and he should be allowed to drive it the way he aspires," another MP quoted Ruto telling the group.