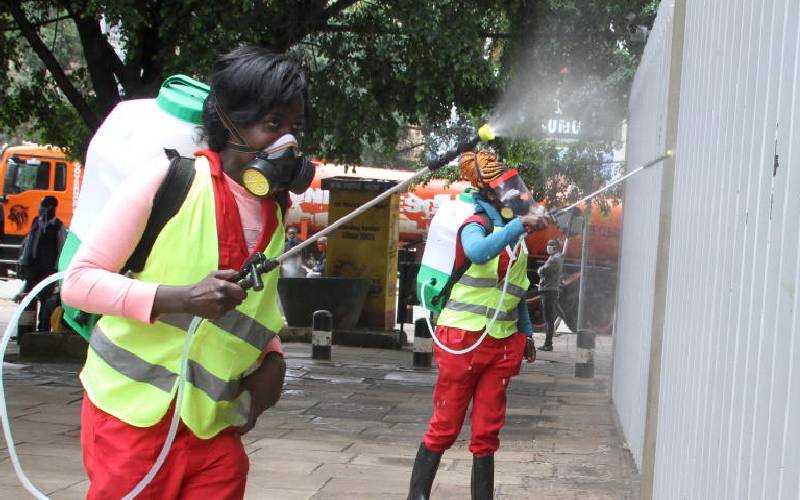 The Taita Taveta county government has set aside a special centre for doctors and nurses attending to coronavirus patients.
The county has not reported any confirmed coronavirus case.
County Health executive John Mwakima said all government hospitals will be fumigated, with special focus placed on those at the border of Kenya and Tanzania.
First to be fumigated is the Taveta Hospital, which lies at the border with Tanzania.
Chala and Njukini hospitals will also be priotitised in the fumigation exercise.
The special interest in the hospitals is informed by the increased coronavirus numbers in Tanzania.
Mwakima further added that hospitals at the border with other counties like Kwale and Makueni will also be given special attention.
The Health docket chief reiterated that healthcare workers at the frontline are at risk and need to be protected.
This falls against the backdrop of healthcare workers who have called for more personal protective equipment and allowances.
Mwakima said those who will end up working at the isolation wards will be put up in separate facilities to stop them from possibly spreading the virus to their families and others.
In its bid to stop covid-19 spread, the Health ministry and the national government have ordered a cessation of movement and set up other containment measures.
Truck drivers moving through different counties have also been urged to be on high alert.
They are required to obtain health clearance certificates from their point of departure, even if it is outside the country.
In its daily briefs of the coronavirus spread in the country, Health ministry officials said border points are a weak link in the fight to flatten the infections curve.
Kwale and Taita Taveta sections are more important for Kenya in the struggle against the virus due to the massive vehicle and human traffic flow between Kenya and Tanzania.
Taita Taveta is a
major transit to export
and import trade through Taveta town and, like Kwale whose official entry point is Lunga Lunga, suffers many unofficial and unpoliced exits.
Northern Tanzania's viral load is now a direct threat to efforts to combat the virus in Kwale and Taita Taveta.
For Taita Taveta, the threat of infection is exacerbated by the Mombasa-Nairobi highway used by thousands of truck drivers en-route to and out of Mombasa or Tanzania.