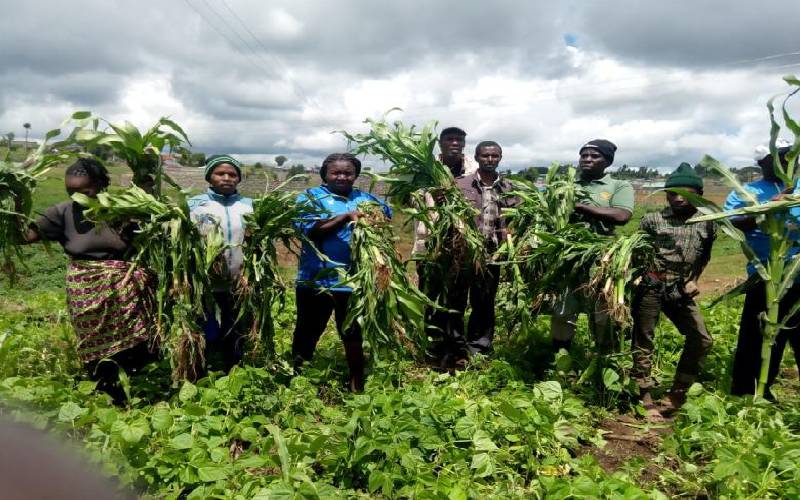 Farmers at an estate in Molo are demanding answers after they woke up yesterday to find their crops on some 12 acres of land destroyed. According to the farmers, a row had erupted between residents who have built homes on their parcels and those who have not and are using theirs to plant food crops. The more than 20 farmers at Kwa Ndung'u Estate, which was formerly an agricultural land owned by a businessman, said they had disagreed with other land owners who have developed their parcels in the estate, on how the land should be utilised. According to the affected farmers, the plan was hatched by some residents who have already built homes in their parcels and have no land to till.
SEE ALSO: Man kills father, sets body ablaze
"Those who have built homes claim they were allowed by local administrators to have the crops destroyed so that security in the area can be maintained. Which government destroys food to maintain security?" Harun Nyakago, an affected farmer, said.
Big blow
Mr Nyakago said he lost his maize and beans crops. "I had maize and beans on my land and everything has been destroyed. I had no dispute with anyone over the land," he said. Nyakago, who lives in a different estate, said the destruction is a big blow to his family as the crops were his only source of food.
SEE ALSO: County now wins Sh3.8b land case
"It is very unfortunate that our crops were destroyed maliciously by trespassers. This means for the rest of the year, I will be buying food for my family while my land is lying idle," he said. Josephine Kemuma, another victim, passed out on arrival at the scene on seeing the destruction on her farm which she had pinned all hopes on. "I am a single mother of three and this is the only land I have. I live in a rented house since I have no ability to develop my plot. How will I provide for my children now that they have destroyed the little I had," Kemuma asked after regaining consciousness. "It is today that I have learnt they had a meeting last year and agreed that no farming should take place here. This is an infringement of the rights of the poor by the rich who mistakenly feel we should do what they do with their parcels," she lamented. Area Chief Kennedy Kiago described the act as criminal, saying that no such resolution had been approved by the local administration.
SEE ALSO: Group rejects order to share 5,186-acre land
"We had a meeting with the residents and disapproved any plan to destroy crops. Am shocked to see the extent of destruction which happened here at night," Mr Kiago said.
Insecurity
He said authorities are investigating the incident. David Muchoki, who lost crops on his half-acre plot said they were not invited to the meeting that discussed the insecurity matter. "If the claims are genuine, they should have involved everyone in the alleged meeting and destroy the crops in broad daylight. Executing such plans in the cover of darkness is cowardly and malicious," he said.