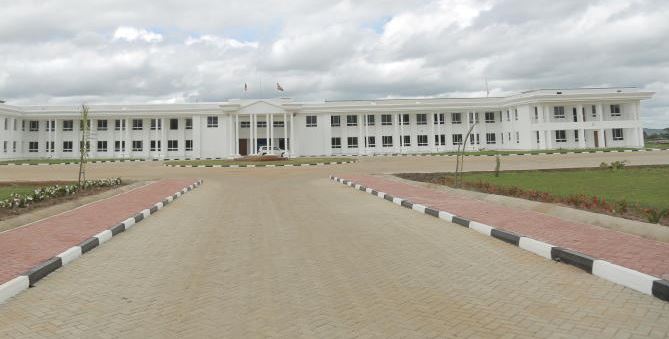 Eastern
Critics divided on whether such grandeur is necessary in the face of many challenges, but county says it has been in the works for years.
We saw the stadium that Governor Alfred Mutua refurbished within a short period. He carpeted roads and built a recreation centre complete with an amphitheatre, a short golf course, restaurants and children's playgrounds. It wasn't just that. In Dr Mutua's elaborate development plan was a dream of a modern Machakos County city, a world-class city on over 4,000 acres. The governor dreams big and wild. Among the infrastructural plans and amenities, he proposed were universities, schools, a Formula One racing track, a marina, the Machawood Entertainment Centre, a park, golf course and hospitals. When the breathtaking architectural 3D impression of the new city was released in 2013, many dismissed it as a pipe dream -- laid on sand. Seven years later, it is still the stuff of jokes on social media.
SEE ALSO: Mutua taken to task over Sh1.3 billion audit queries
Even if what is already on the ground is a far cry from what many expected, Mutua has not let that dampen his spirit. This week, he opened a new office – christened The White House – and people are talking. Pictures of the new building soon hit the internet, sparking a conversation on what has now been branded White House – thanks to its facade's resemblance to the US's White House in Washington DC. Critics and supporters have had heated debates as to its utility, cost and priority. "We are used to this now. (Alfred) Mutua ni mtu wa masinema (Mutua is a theatric)," @Michaelmutisya posted on Instagram. "He might not be doing much but at least he is trying. Many governors have nothing to show," one @mkambamtrue said as the issue took a different turn, with some arguing the money should have been used on Covid-19-related issues.
SEE ALSO: Shalom hospital shut down as 3 patients die, staff contract Covid-19
Blooming gardens
"This is a project that started long ago. How could the money have been used for Covid-19 when the pandemic wasn't even in existence," Victor Muniafu, the Machakos' acting Chief Officer in the Ministry of Tourism and Culture, told
Sunday Standard.
Some governors and dignitaries have paid the Maendeleo Chap Chap party leader courtesy calls. He has held a ministerial briefing in the 'Oval Office' and addressed the press in the media centre. He has had tea with investors and enjoyed evening breeze on the blooming gardens. "Our new office signifies that devolution is at work. It is not my office. It is the office of governors. I have built this office for the next 200 governors. I will not even enjoy it in the first place," he said during a briefing this week. The block will house the governor's office, conference and meeting rooms, a press briefing room as well as various staff offices for key services.
SEE ALSO: Shalom hospital sealed off after three Covid-19 deaths
It is about 200 metres from the main gate -- the driveway is a cabro surface and the stretch from the gate is manned by heavy security. Next to the upcoming perimeter wall on both sides of the office block are car parks that give way to other gates. Here, the national and county flags fly high, fluttering to the command of the breeze from the surrounding hills. The entrance leads to a long stretch of well-lit tunnel that in turn leads to the common meeting area which has a wall-to-wall blue carpet that accentuates the architectural design. The wooden doors are decorative and the windows wide. The common holding area has brown leather seats and trophies on two shelves.
Massive block
Mutua's 'White House' is a two-storey building whose construction cost has been quoted at a shockingly low amount. The building that sits on 2.5 acres is a creation of Mark Gitahi, an architect behind many projects. The concept was inspired by the US White House and offices of governors in the US. It is aimed at putting Machakos in its old place as Kenya's first capital city, according to sources within Mutua's office. "As for now, there is no official figure that can be given as the project is still ongoing. Contrary to reports that the office block has been put up within nine months, the establishment has been under development for almost four years," a statement from the Machakos County communication office stated. "Every year since the project started, the County Assembly has been allocating it part of the budget for buildings to keep the work going. Works are ongoing. It is only the governor and some of his staff who have moved in so as to save costs. "Once complete, the building will house more staff and also enable the county to save on resources by centralising a lot of its administrative services," Mutua's head of communication said.