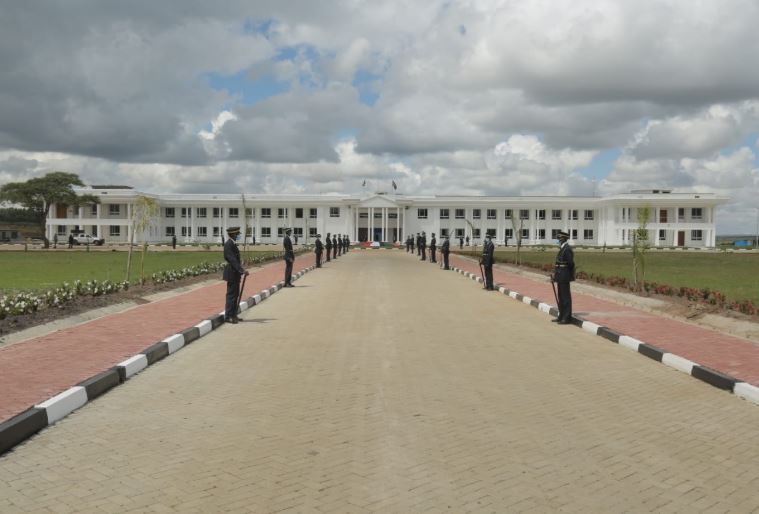 The breath-taking gaze into the panorama of the new Machakos governor's mansion
(pictured
), now popular as Alfred Mutua's 'White House' has set tongues wagging across the country. Domiciled within the upcoming New Machakos City barely three kilometres from the county headquarters off Machakos-Nairobi highway, Dr Mutua's new seat of power has not only been termed as 'a replica of State House' but also the most magnificent and advanced governor's office anywhere in Kenya. The Neo-Victorian structure bathed in white is truly a marvel.
SEE ALSO: Shalom hospital shut down as 3 patients die, staff contract Covid-19
Many will agree that the office's glamour resonates with the popular slogan, "Machakos, the Place to be" developed by the county government to promote the county's image. But it was perhaps the recent meeting of the Council of Governors (CoG) where Dr Mutua hosted Governors Wycliffe Oparanya (Kakamega), Mohammed Kuti (Isiolo) and Joseph Ole Lenku (Kajiado) that lit the social media after photos of the meeting venue circulated far and wide.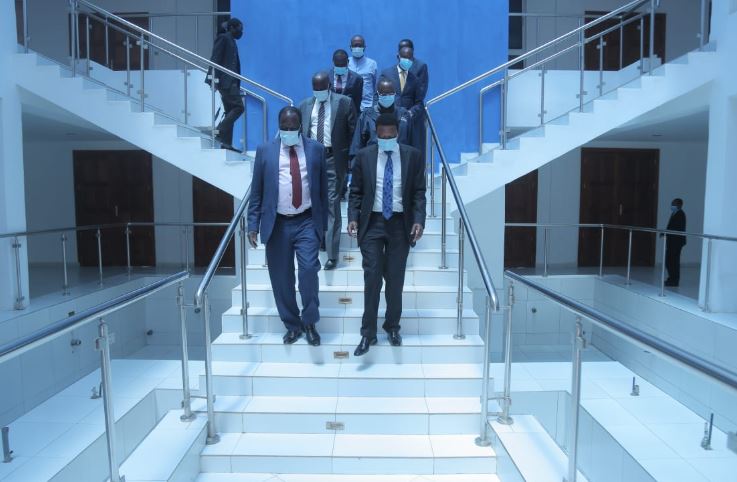 So what's really so special about the Machakos governor's office? The 'Machakos White House' besides its gigantic size, sits on 2.5 acres of land in the ambience of the slopes of Kiima Kimwe hill-the historic fortress of the father of the famous veteran freedom fighter, the late Joseph Paul Ngei. It is within this locality where several other structures are coming up, which form part of the integrated New Machakos City program.
SEE ALSO: Shalom hospital sealed off after three Covid-19 deaths
They include, the Machakos Peoples' Park, a public conference facility, a highrise 12-storey building, a Word-Bank funded fire station which is nearly complete as well as a commercial development area also currently under construction. In last year's county fiscal budget, the County assembly of Machakos allocated Sh100 million being initial development fund for the establishment of the proposed Machakos airport. "The plan is to modernize Machakos and create tens of thousands of both direct and indirect jobs for our people, particularly the youth. Our aim is to create an appetite for both local and multinational investors to invest in Machakos, which in essence means more jobs for Machakos residents," Dr Mutua told The Standard in a telephone interview. The office compound boasts of a huge parking area comprising VIP as well as staff parking. Entry into the compound is controlled by inspectorate officers with the backing of Administration Police officers. All non-staff of the office of the governor and visitors must undergo clearance and security checks before being allowed to drive or walk in.
SEE ALSO: Mutua slams tribal affiliations as Muthama, Kibwana open talks
Also coming up are beautiful lawns sandwiching the entry road from the main gate towards the office block, complete with selected exotic trees and flowers. The office block itself will hold various offices and facilities which include the governor's office, a cabinet hall, a general conference and meeting hall, a press conference facility, spacious offices for various staff, ultramodern kitchen, and numerous clocking rooms and so on. "Governor Mutua has built this office for posterity. He will not enjoy it since he will complete it just before his term ends. Most importantly, the office will enable the governor to provide services more efficiently since his team is closer to him," said a senior communications officer in the office of the governor. And Dr Mutua said, "This is not my office. It is the office of governors that will come after me. I have built this office for the next 200 governors. I will not even enjoy it since I will be seeking to be elected the next president. But we have done it to show devolution works."