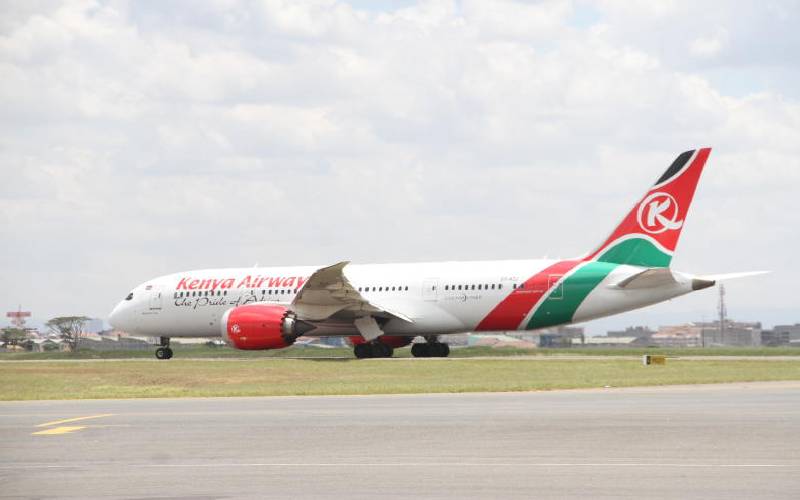 In 2014 at the height of the civil war in the Central African Republic, many countries started evacuating their nationals. France sent planes to rescue French citizens. British Airways allowed only their passport holders to board. Americans would not countenance the thought of non-citizens boarding their planes. Foreign African nationals, stranded in the face of the impending conflict, were desperate–until Kenya Airways (KQ) arrived! Ordered to fly out Kenyans from Bangui, KQ departed from the self-preservationist Western script and allowed on board all other holders of African passports! It is not without reason that KQ is known as the Pride of Africa. Filling in as the default 'national carrier' of many sub-Saharan countries, the red, white, green, and black livery of Kenya's national fleet is recognised in major airports worldwide. These colours, reflective of the country's flag, imbue citizens with a sense of patriotic pride.
SEE ALSO: 278 more test positive for Covid-19
But the Pride of Africa is grounded by the inimical effects of Covid-19. The Coronavirus has affected the global airline industry to the extent that Emirates President Tim Clark and CEO of Etihad Airways Tony Douglas have issued a warning. They predict that without government intervention, 85 per cent of carriers globally face insolvency by the end of the year. Yet the Covid-19 challenges are predated by those of the gross mismanagement of KQ. The national carrier's problems are analogous to those of Kenya's economy. Like the country, encumbered by short-term expensive debt, the airline is hamstrung by what industry pundits call legacy costs; costs emanating from previous heavy borrowing and poor utilisation of assets and passed on from one management team to the next. Collectively, these have made KQ accumulate huge debt and finance costs. Until these legacy costs are defrayed, it is impossible for KQ to turn a profit, even in the best of times. No amount of infusion of operational excellence or cleaning out of other deficiencies can turn around the airline. Not without recapitalisation to retire legacy costs. The airline is insolvent. Negative equity in 2018 and the profit warning issued last year suggest that this negative equity will be worse. Simply put, current assets are outweighed by current liabilities. Former KQ boss Joe Nyagah has proposed the liquidation of KQ. However, this column holds a contrarian view. First, KQ contributes close to 2 per cent of Kenya's $90 billion GDP. This is through the upwards of 400,000 direct and indirect jobs. Kenya Airports Authority, NAS, Swissport, Kenya Airfreight Handling Limited, fuel suppliers, auditors, consultants, all derive their income from the activities of KQ. Second, KQ is critical for tourism. Of the carrier's 4 million annual passengers, 55 per cent of them are leisure travellers. Whereas business travellers can travel on any airline, even one that has multiple stops, leisure travellers prefer direct flights. KQ has direct flights to multiple destinations and is a favourite with Europeans who make the bulk of the country's tourists.
SEE ALSO: Officials explore home-based care for Covid-19 patients in Mombasa
African airlines
Third, KQ is critical for the creation of a vibrant export market for Kenya. Currently, the world has a shortage of freighters. Any country that intends to export its produce now needs to have its own freighters. For a while, Kenya depended on other countries that had their own cargo planes. Because of Covid-19, most of these have been recalled for exclusive use by their home countries. Though KQ's share of cargo leaving Kenya has been just 10 per cent, it has sought to increase this. It has repurposed its fleet of Dreamliners to cargo out fresh produce as a short-term measure. Post-Covid-19, instead of killing off KQ, the country should contemplate cooperation with other African airlines. These would create better economies of scale, advantageous in negotiating for bulk discounts for spare parts and pooling resources to buy equipment instead of expensive leases. Cooperation can be in the form of interline arrangements, code-sharing, joint ventures, and mergers. But before these can happen, legacy costs must be sorted out. Perhaps the proposed nationalisation of the airline would take care of these. KQ is a symbol of hope. When the airline flies, the hopes and aspirations of the nation soar with it. In these tough times, the true North must be the survival of this iconic institution. Its turnaround represents the possibilities of what the country can be. It must succeed!
Mr Khafafa is a public policy analyst