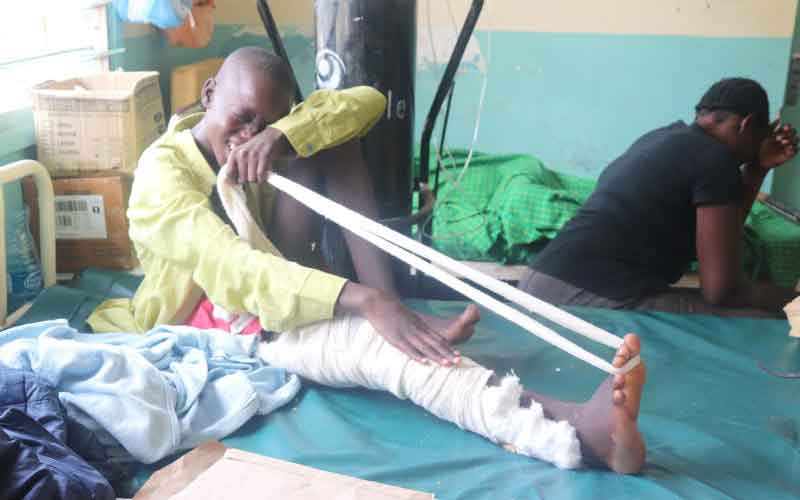 Western
He said police officers hit him with clubs and gun butts.
A 13-year-old street boy is admitted at the Busia County Referral Hospital with fractures on his right leg after he was allegedly assaulted by police officers. The boy, whose name we have withheld as he is a minor, is said to have been beaten up by officers on Friday at Ojamii in Busia town for breaking curfew. His friends managed to escape. He said police officers hit him with clubs and gun butts. "The police officers found us in Ojamii and started beating us. My friends escaped with injuries. I couldn't run away because they had broken my leg," he said from his hospital bed.
SEE ALSO: American embassies in Africa in damage control campaigns
He added: "They told us that we were taking coronavirus to the town every evening, saying we should go back to our villages." The child was taken to hospital by Faith Minza, a good Samaritan. Ms Minza said she found him writhing in pain on the street. "He was bleeding profusely and lying barely conscious on the ground. The X-ray showed he suffered two fractures to the right leg," said Ms Minza. Police Commander John Nyoike, however, said he was not aware of the matter, but promised to follow up on it. "I cannot comment until the matter is reported to the station," he said.
SEE ALSO: Clashes outside White House as US cities under curfew
Dorice Wako, a police officer, urged the national government to find a place for street children to stay. Ms Wako is known for taking care of street children in Busia town, earning her a Head of State Commendation in 2018. Someone called her while she was at Kiganjo Police College, telling her that one of 'her children' had been assaulted. "Beating these children is not the solution. Let them be put somewhere and all necessary measures to prevent the spread of the virus be put in place," she said, calling on her colleagues to be humane. Medical Superintendent Namudala Emukule confirmed that the boy came with a fractured leg and doctors were attending to him.
SEE ALSO: Safaricom closes TRM shop after staff catches Covid-19