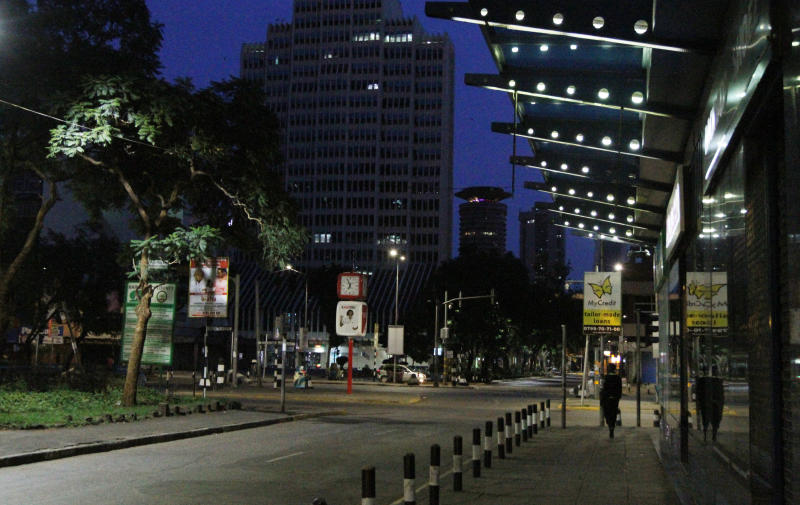 Nairobi
Along Kenyatta Street in Nairobi, one or two people are running to catch the last buses leaving the central business district for their homes.
It is 6pm. This is the hour that defines your relationship with the men in blue; the hour that determines where you will lay your head for the night if you are not in your house unless you are one those people exempted from Kenya's dusk-to-dawn curfew. Along Kenyatta Street in Nairobi, a few people are running to catch the last buses leaving the Central Business District to their homes. The roads are empty apart from a few PSVs leaving town while others park along the streets having called it a day. Kenyatta Street is one of the busiest streets in Nairobi town. Today, however, the parking lots are as empty as ever. The only people around are the essential workers like watchmen who have paraded themselves outside the buildings.
SEE ALSO: What it will take to ease tough restrictions
On Friday, March 26, the curfew took effect in the country with a number of people finding themselves on the wrong side of the law. Day 14, and the curfew has become part and parcel of Kenyans lives. Hena Mulando is on duty today. He arrived at work around 5pm so that he could relieve his colleague who was on duty during the day. He's not alone, standing next to him is his other colleague Manoa Lau. They are the guardians of the night as their bosses leave after days' work. He has witnessed all that has been happening in town since the curfew began. "On day one of the curfew, the police paraded themselves along this street in swarms, they beat up anyone and everyone that came in sight. I was really shaken as I came to work that evening but I was comforted by my boss that we were among the essential service providers and that the police would not hurt us," said Mulando.
SEE ALSO: It all ends in tears after memes fail to sway president
On day one of the curfew, police officers were caught on camera harassing innocent Kenyans including some essential providers who were also victims of police brutality. Mulando tells me that the number of police officers doing rounds in the last couple of days has fallen. "What I see nowadays as I sit here in my chair is, the police do a few rounds at night and when they meet people who are still moving past the curfew hour, they talk to them unlike before when they had no time to listen," says Mulando. Mulando thinks that the reason behind the change of heart among the police officers is the criticism they faced over brutality meted on Kenyans. He is now at ease working and watching the police officers move about at night.