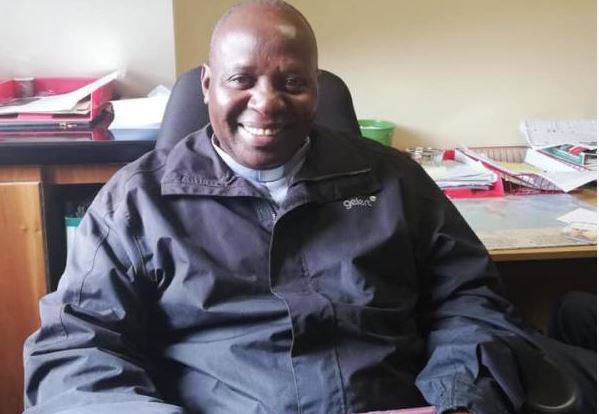 Eastern
Priest who jetted in from Ireland was found in good health after he was examined by county officials
Police in Kitui have ordered a Catholic priest who arrived in the country on Monday morning from Ireland to stay indoors for 14 days in line with the self-quarantine directive after he was spotted in the streets of Kitui town. Father Nicholas Maanzo said he arrived on Monday morning from Ireland and drove from Jomo Kenyatta International Airport (JKIA) to his Kitui residence. He said on Tuesday he was indoors but later in the evening drove to town to get some money "after sanitising myself." "I needed money to buy foodstuff and that is when I drove to Barclays Bank ATM at around 8pm. Later I drove to Magunas supermarket but I found them closing so I went back home," Father Maanzo explained. There were reports that the priest shopped at the supermarket. He said the following morning he sent somebody to buy foodstuff.
SEE ALSO: Police free athletes held over Covid-19
Denied
On Wednesday evening, Directorate of Criminal Investigations (DCI) officers accompanied by health officials stormed the priest's home in Kihara village where they demanded to know why he flouted the self-isolation order. There were reports that he arrived in the country from Italy, now the epicentre of the Covid-19, through Ireland but the priest denied this. "My flight schedule was from Dublin to Amsterdam and then Nairobi. I did not visit Italy and I showed the police officers my air tickets," he told Saturday Standard. On Wednesday morning, the public who had seen him casually walking in the streets alerted the authorities.
SEE ALSO: How coronavirus has affected the trucking business
Asked by Kitui Central sub county DCI head Nzioka Singi why he flouted the directive to self-isolate for 14 days, the priest said he had no choice because he did not have anybody to send for food. Shockingly, he said he had been tested at the airports and was convinced he was not sick. "I caution you not to venture out again until 14 days lapse. By going out on Tuesday night you could have exposed many people to danger should it be discovered that you are sick. We are hoping you are not sick otherwise you will be arrested and charged in court," Mr Singi admonished the priest. The priest in his 50s, acknowledged his mistake and apologised. The DCI officer said the priest's appearance in public caused a lot of anxiety and fear. Singi said health officials from the county government had examined the priest and was found to be "in good health" but during self-isolation he will undergo health reviews. "The self-isolation directive is now very clear to me and I will oblige. Health officials have also advised me on signs to look out for incase of sickness," Father Maanzo said.