Commentary
Wetang'ula in his statement persuaded the Ministry of Health headed by Cabinet Secretary Mutahi Kagwe to make a bold step by naming the patients.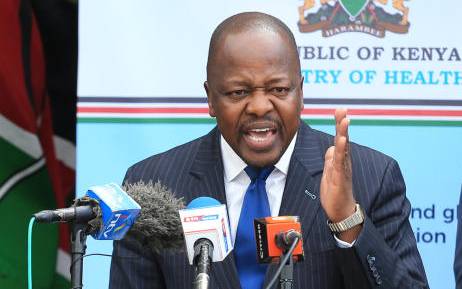 Bungoma Senator Moses Wetang'ula on Wednesday issued a statement on the government's handling of the coronavirus cases. Senator Wetang'ula in his statement persuaded the Ministry of Health headed by Cabinet Secretary Mutahi Kagwe
(above)
to make a bold step by naming the patients who tested positive for the virus. The legislator's demands landed him in hot soup as bashings and mockery flew his way.
SEE ALSO: In self-discipline lies clear hope of pulling through virus gloom
Those who opposed him passed a judgment that he was a lawyer out of touch with the basics law regarding the confidentiality of the patients. A few who understood the Ford Kenya party boss lauded him but with statements suggesting how the virus had scared the hell out of them. It is a debate that threatens to bring a split amongst Kenyans. For the opponents of the disclosure of patient identities, the practice is unlawful, unethical and something that cannot be even contemplated, let alone done. Those opposed to it argue that disclosure would amount to an infringement of patients' rights and will make the government susceptible to a lawsuit for the breach. Also, they argue that it can create an environment of stigma given the aura of trepidation assigned to the coronavirus. As for those supporting the disclosure of names, such an act will help the public, friends, and relatives of the patients to be even more vigilant by coming forward to take the tests, after coming in contact with the individuals.
SEE ALSO: 52 more test positive for coronavirus in Kenya
This issue is like a coin to be tossed. The government could be at a crossroad of deciding whether to henceforth commence full disclosure or just continue giving locations, age and travel history. But judging from the trends around the world, and how the disease spread from China to Europe and now Africa and other continents; there is no harm in naming the COVID-19 victims.
Cases made public
On February 7, 2020, as China battled a virus that was climaxing and threatening to ground her healthcare system, one man stood out and was celebrated even posthumously. Li Wenliang, a 34-year-old Chinese doctor succumbed to the virus which he contracted in the line of duty at Wuhan central hospital. He was celebrated and is still being considered a hero after he blew the whistle on the virus just after it was detected in Wuhan. That Dr Li died of the disease, which later gave him fame is enough to reveal that people take positively anything crafted to fight the bug.
SEE ALSO: Do not allow any visitors — Kagwe tells parents of newborns
Off China, the killer bug spilled over to Iran killing its former ambassador to the Vatican, Hadi Khosrowshahi who was 81-years-old. The virus did not spare Vice President Eshaq Jahangiri and other ministers Ali Asghar Mounesan (cultural heritage, handicrafts, and tourism) and Reza Rahmani (industry, mines, and business)-all cases were made public. The virus has engulfed nearly all countries in Europe bringing almost all cities on lockdown. The same script can be seen in the US. For instance, recently, President Donald Trump after suspecting that he may have contracted the virus after hosting a delegation from Brazil went for the test and disclosed that it was negative. This was after one member of the Brazilian delegation tested positive and the results made public. In Britain, film star Idris Elba disclosed that he had been infected and gave a reassuring message that he was recovering well. Just across the border, in Tanzania, a couple of prominent Tanzanians have tested positive for COVID-19 and spilling their names was not considered a taboo. Sallam Sharaf, manager of Tanzanian music star Naseeb Abdul Juma Issack popularly known as Diamond Platinumz tested positive for the virus and it was all over in the media.
SEE ALSO: State pledges support for religious services to ensure adherence to safety measures
Another case involved a Tanzanian rapper Hamis Mwinjuma known as Mwana FA who also tested positive after arriving from a trip to South Africa. In most of these cases, one may argue that most of the victims willingly shared their personal health information, and therefore the media just published their confessions. But in Europe and the US, there are many other victims who have come out to give detailed accounts of how they tested positive aside from the authorities speaking about. The specific cases involve football stars like Chelsea FC's Callum Hudson-Odoi and Juventus duo Blaise Matuidi and Daniele Rugani all who had their test results declared by their respective clubs. It is safe to hypothetically declare that there are more merits in the disclosure of patient identities. For example, there are lots of mysteries surrounding the disease and how it manifests in the body. Therefore, making names public would allow the persons to open up and speak about their experiences when asked or out of personal volition. Also, human beings are psychological. Therefore, when one relates to the experiences of the victims; he or she gets a sense of confidence. Kenyans will develop a feeling like "we can beat this disease because so-and-so did it."
SEE ALSO: Health Watch: Kenya records 80 Covid-19 cases as Cholera claims lives
Doubts
On Thursday, Health Cabinet Secretary Mutahi Kagwe spent the better part of his press address condemning peddlers of fake news on the coronavirus. Mr Kagwe went and extra length when unleashed a warning to those he accused of misinforming Kenyans on social media that they would be arrested and taken to Mbagathi Hospital to confirm that indeed there are patients quarantined there, seven of whom are positive. That there is a brooding feeling of doubt is enough to reveal that Kenyans want to know the persons involved in the cases, right? When Tanzania confirmed her first case, a female patient was named and she came out to narrate her experiences and issued a public apology which I believe was well received. Why can't Kenyan government do the same? Having known that someone has tested positive for Covid-19, those who have been in contact with him or her will willingly take early cautionary steps to go for the test and self-isolate before it advances. And, when the country has the success stories of how patients have recovered, it will even give more confidence to the public not to be reckless to face the challenge just in case of an infection. The Health ACT 2017 section 11 (2) allows the government to disclose a person's identity if the disease in question is a threat to the nation. It states: "Subject to the Constitution and this Act, no person may disclose any information contemplated in subsection (1) unless (c) non-disclosure of the information represents a serious threat to public health." Why not Kenyan government?
Japheth Ogila is a sub-editor and reporter for the Standard Digital