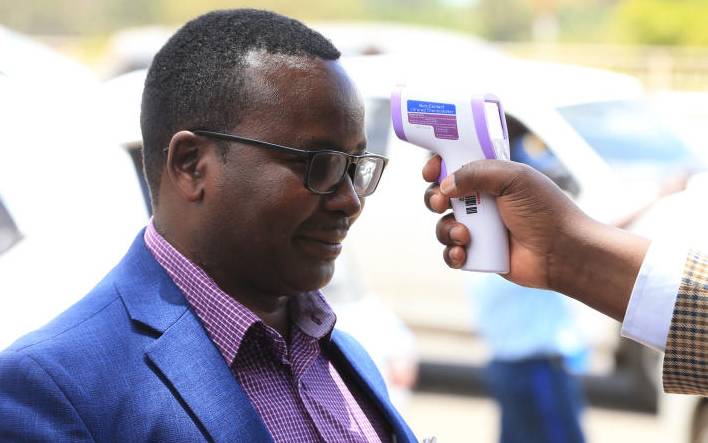 Nairobi
No new case of coronavirus has been reported in the last 24 hours, as eight suspected cases turned negative.
No new case of coronavirus has been reported in the last 24 hours, as eight suspected cases turned negative. Those who have contracted the virus still stand at seven, and all are under surveillance by the Ministry of Health and Kenyatta National Hospital staff, the government has announced. "The good news is that they are all in stable condition, and we have begun tests to determine if they are negative," said Health Cabinet Secretary Mutahi Kagwe. The eight who tested negative are being processed for discharge, the minister said yesterday.
SEE ALSO: Health ministry on the spot over clinics
Kenya's first case was reported on March 13, and it shot to seven in just a week. The CS, while giving an update on the outbreak yesterday, said so far the government laboratories had tested 173 suspected cases, and only seven turned out positive. Additionally, the government agencies have 145 contacts on their radar, who are being pursued as suspect cases. These are individuals who have come into contact with the seven patients who tested positive. The CS said so far close to 600,000 people had been screened through the country's 34 points of entry - walks-in and airports - adding that plans were underway to start a similar exercise countrywide. "The exercise will be coordinated by the Ministry of Health and will involve other stakeholders such as Red Cross and security personnel among others," he said.
SEE ALSO: Patrick Amoth: The village boy who rose to represent Africa in top World body
Mr Kagwe said the government would begin to use the Nyumba Kumi initiative to ensure directives issued on self-quarantine and social distancing were adhered to. He said the enforcement would be done by chiefs and sub-chiefs. "The government is directing all county commissioners to engage in Nyumba Kumi initiative committees to support the outbreak response measures," he said. Entertainment joints and bars are some of the venues they will be monitoring, as they are required to operate within the specified hours. "By congregating in entertainment joints, this beats the purpose of self-quarantine and we will take action against those institutions. This includes withdrawing their licenses," he said. The CS put all doubts on claims by the global health body that the numbers of coronavirus cases being reported were not absolute.
SEE ALSO: Covid-19: Government urges Kenyans to go for mass testing as 22 more test positive
World Health Organisation Director Genera Tedros Adhanom said 233 cases from sub-Saharan Africa and four deaths was too small a number compared to the intensity of the pandemic globally and the condition of health care services in the region. However, the Health CS said as far as Kenya was concerned, the numbers were a true reflection of the outbreak in the country. "We are confident of what we are talking about. I know it was expected that when the disease gets here we will be overwhelmed, maybe we will, maybe not, but let us not look down on ourselves. If we do what we are asked to do, we will prove them wrong," he said. Ministry of Health Acting Director-General Patrick Amoth discouraged the use of masks being sold on the streets as a way of preventing one from getting the virus. Dr Amoth said masks were not only in short supply, but should only be used by one who is already sick or health workers. "If you are not, then you are putting yourself at risk of Covid-19 since you will still touch your face," he said.
SEE ALSO: In self-discipline lies clear hope of pulling through virus gloom