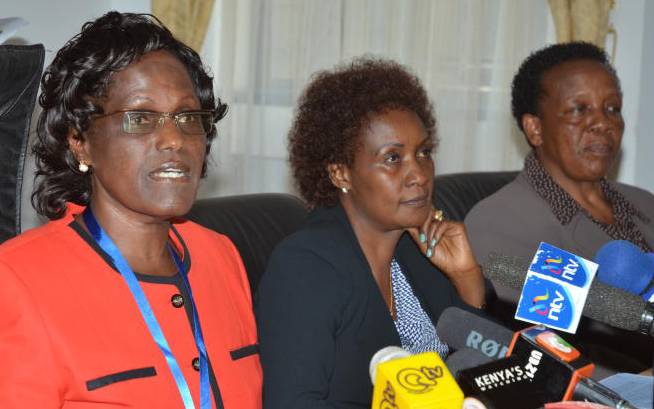 Eastern
Committee wants to establish rationale behind a three-month non-payment of stipends to some 10,000 teachers.
The Teachers Service Commission (TSC) has been summoned to appear before a Senate committee next week to explain the rationale behind a three-month non-payment of stipends to some 10,000 teachers contracted under its internship programme. The legislators also want TSC to explain why it has employed teachers with university degrees as interns, earning less than some non-teaching staff at the schools where they offer their service. Commission chairperson Lydia Nzomo and CEO Nancy Macharia will appear before the Senate Education Committee chaired by Bomet Senator Christopher Langat to clarify the nature of internship contracts. In a statement sought by Lamu Senator Anwar Loitiptip, TSC has been required to state when the commission plans to pay the intern teachers, as per the contractual agreement.
SEE ALSO: Today's Jubilee PG meeting could seal Duale's fate
"What plans are in place to ensure they are paid their stipend on a monthly basis without fail going forward and the measures that the national government is putting in place to ensure the interns are gainfully employed once the internship comes to an end," said Loitiptip in a statement to the committee. Other benefits Kericho Senator Aaron Cheruiyot asked the committee to compel TSC to explain the nature of the contract and what other benefits they get on top of being interns. Mr Cheruiyot noted that there is an emerging trend in the national government where, instead of employing people and ensuring that they enjoy the full perks of an employed person, they offer internship opportunities and pay them poorly. According to him, the internship exercise attracts almost 3,000 to 4,000 extra teachers on a yearly basis.
SEE ALSO: Ruto allies in Nakuru change tune ahead of Jubilee's State House PG
"It is important that their sacrifice counts for something. They should be given priority when TSC resolves to employ teachers," said Cheruiyot. While contributing to the motion, nominated Senator Alice Milgo urged TSC to establish a clear framework on issues of payment and recruitment of interns who have gone without pay for at least three months. "The committee should also find out what effect this will have on our children when we recruit interns to teach them, in the name of providing employment and yet we do not pay them. I am sure this is going to affect the quality of education in those schools," said Dr Milgo. The senator also wants the teachers' employer to explain to Kenyans whether it wants to waste interns engaged in various schools, citing that students and pupils are going to lose a lot because they are being taught by people who are not happy. Statutory deductions