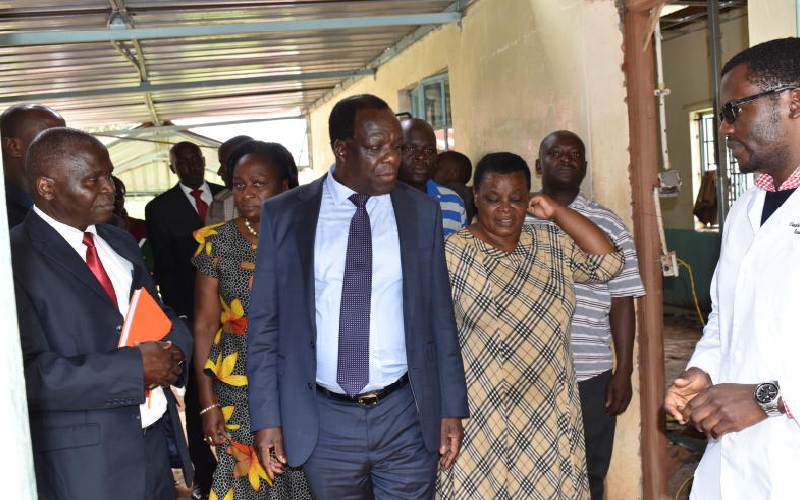 Mortuaries in all public hospitals in Kakamega County have been closed and families ordered to immediately collect bodies of their loved ones as a measure to check possible outbreak of the deadly coronavirus. Governor Wycliffe Oparanya said the facilities must remain empty for at least 30 days and urged concerned families to move with speed and collect the bodies. He said the county government had waived mortuary fees to make the plan successful. Mr Oparanya was, however, reluctant to reveal the number of bodies in the mortuaries, which include unclaimed ones. "Whether there are 1,000 or 10 bodies, they must be collected immediately and buried. My administration has waived mortuary fees to facilitate that," Oparanya said when he toured Kakamega County Referral Hospital yesterday.
SEE ALSO: Wall Street's Big Tech enthusiasm getting stronger
Henceforth, the governor said no more bodies will be received at the mortuaries saying; "Families who lose their loved ones will be facilitated to bury them to avert a situation where many people crowd in one place." The governor also ordered closure of all open air markets across the 12 sub-counties. Clubs and entertainment joints must close by 11pm. Oparanya spoke after he toured a five-bed isolation ward at the county hospital. Another 20-bed isolation ward is currently under construction. He disclosed that his administration has set aside at least Sh110 million from the emergency kitty to combat the disease in case it spreads to the region. "The national government had asked us to provide our budget for this plan and we have already done so," he said. The governor said some 11 Kenyan students who returned from Chinese universities have been cleared of the disease and have freely been mingling with other residents.
SEE ALSO: Panama hospitals on verge of collapse as virus cases surge
"We had a case where some Chinese nationals were quarantined for 14 days in one of our hospitals in Ikolomani but tested negative for the virus. In another incident, an Egyptian fell ill and was admitted to St Mary's Mission Hospital in Mumias but was later diagnosed with malaria," said Oparanya. He said: "The County Rapid Response team also visited Malava and Lugari following coronavirus scare but found there was nothing to fear." Geoffrey Kithinji, who is in charge of the team, said the county had so far received 20 Personal Protective Equipment (PPE) that will be used by the health workers who will be in charge of the isolation ward and holding rooms. "Only severe cases will be handled at the hospital. Those with mild common flu should stay in their homes but isolate themselves for at least 14 days," said Kithinji. "We are also limiting the number of relatives visiting patients in hospitals and insisting on cough etiquette as some of the basic infection prevention and control measures," said Dr Kithinji. In Bungoma, Governor Wycliffe Wangamati's government has set up a 16-bed isolation ward at the Webuye Sub-county Hospital.
SEE ALSO: Coronavirus leaves Spain's interior a tourist desert
In other sub-county health facilities, holding rooms have been set up to take care of anyone suspected to have been infected by the virus. A team of health workers, including doctors, clinical officers and nurses, is being trained on how to manage the pandemic. County government Communication Director Tim Machi said additional PPEs will be procured if there will be need. "Patients visiting these facilities will undergo screening at the reception before they can proceed for other medical services," said Machi. He said the government is scaling up awareness campaigns as the best way to prevent the scourge. Officers have been dispatched to the villages to provide information about the virus and how well to be safe from it. Vihiga County has set up teams to help deal with the possible outbreak of Covid-19 as directed by President Uhuru Kenyatta on Sunday. County Referral Hospital medical superintendent Vitalis Juma said they have set aside a building to be used as a treatment centre in case of any eventualities.
[Atambo Ngoko, John Shilitsa and Eric Lungai]