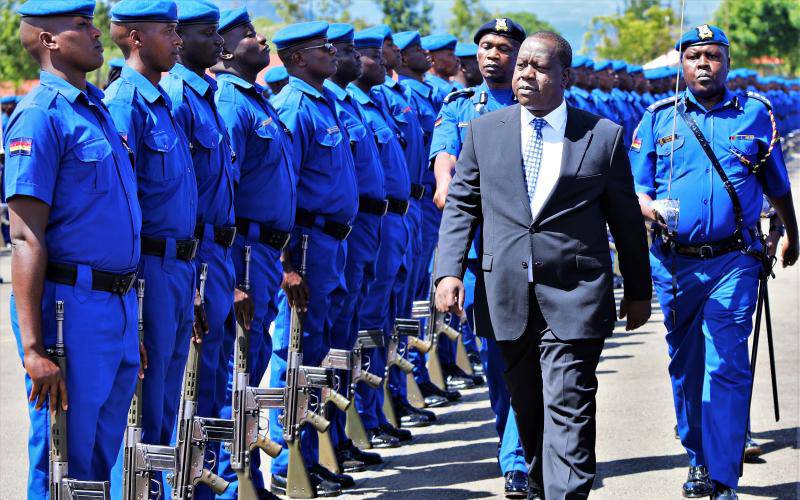 Nairobi
At least 1,702 police officers were promoted for staying in one rank for long and serving more than 30 years.
At least 1,702 police officers were promoted for staying in one rank for long and serving more than 30 years. National Police Service Commission said the officers from Administration Police, Kenya Police and Directorate of Criminal Investigations who are aged between 55 and 58 and had served between 30 and 38 years. Interior Cabinet Secretary Fred Matiang'i Thursday presided over the graduation ceremony of the group after undergoing a command and leadership course at the National Police Campus in Embakasi. "We thank the police leadership for fast-tracking the police reforms and ensuring their welfare is looked into," he said.
SEE ALSO: Six Atlanta cops face excessive force charges after tasing college students
The officers were all constables and were promoted to the rank of corporal. The CS ordered for overhaul of the promotion boards to ensure promotion in future can be done on merit and fairly. "The newly structured promotion board should do away with promotions based on corruption and tribalism or nepotism," he said. The CS assured the officers that the government is committed to look into their welfare on issues like medical insurance. He promised that the ministry will cancel the contract of any firm which will not deliver. Inspector-General of Police Hillary Mutyambai said it is wrong for a police officer to be stuck in one rank for more than ten years yet he or she is performing duties with exemplary.
SEE ALSO: Video shows unarmed black man not resisting arrest as officers drag him from car
Commission chairman Eliud Kinuthia said the aging officers without disciplinary cases will benefit from the promotions. A constable is the junior-most officer in the National Police Service and are ranked at the bottom. A newly recruited constable earns about Sh20,000. Kinuthia added they will also move officers who have served for more than 10 years in hardship areas to other stations perceived to be better. The developments will affect officers serving in all units in NPS. "We will implement these changes fairly. There has been a feeling of unfairness among some officers and it is part of the reasons we are rolling out the changes," he said.