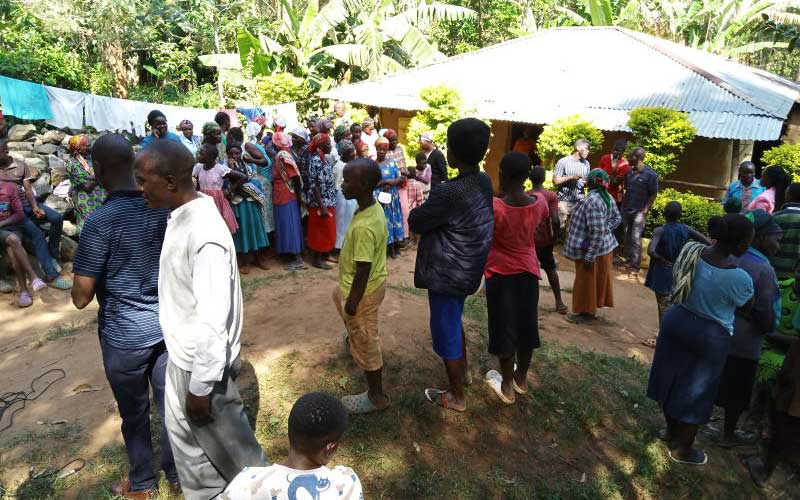 A village in Lugaga, Vihiga County, is in mourning after four family members were attacked and killed at their home during a foiled robbery. Residents, who had responded to distress calls, laid an ambush and lynched one of the suspected attackers in the Friday morning incident. Those who arrived at the scene first said they found the husband and wife dead on their bed while two children were in the sitting room - one dead and the other one was fighting for her life. She later died at Kakamega General Hospital's Intensive Car. Two other children who hid under the bed escaped without injuries. Succumbed to injuries
SEE ALSO: Two Homa Bay MCAs charged with assault and robbery
Kennedy Ambani, 40, a veterinarian and who operates an Agrovet shop at Magada, Elizabeth Achieng, 35, Gifton Ambani, 10 and Anne Ambani, 8, all succumbed to their injuries. Several chicken had been strangled and nothing useful taken from the house. "We got the report at about 3am on Friday. We were informed that a group of about 6 to 7 had attacked the village and their aim was to steal chicken," County Police Commander Hassan Barua said. "It is shocking that people can come to steal chicken and end up murdering innocent family members. We have names of some of these gang members and we will arrest them," added the county police boss. The attack comes barely four days after another couple was attacked at night within the same neighbourhood and killed at Chango sub-location where four goats were killed and eight chicken stolen. Lugaga/Wamuluma MCA Victor Ijaika, who visited the scene, said insecurity in the area was on the rise and asked police to beef up patrols.
SEE ALSO: Woman throws her three children into River Nzoia
Neighbours told
The Standard
the gang prevented them from coming out to rescue of the family even as they made frantic cries for help. Brutal manner Gaylord Salabo, an uncle to the man who was killed, described his nephew as a very friendly man and was always on call to help locals to treat their livestock. "It is quite baffling how the gang decided to set upon my nephew and his family and kill them in such a brutal manner," said a distraugh Salabo. Hellen Suneria, a resident, said that the rise in insecurity in the region is partly contributed by the high rate of unemployment.