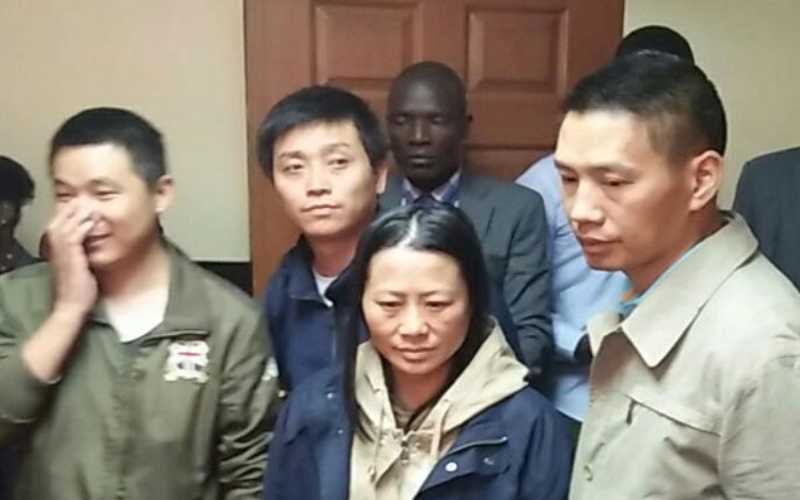 The High Court has suspended Interior Cabinet Secretary Fred Matiangi's order to deport four Chinese arrested in connection with caning of an employee at Nairobi hotel.
Nairobi
CS Matiang'i ordered the deportation of four Chinese nationals last week hours after court allowed police to detain them for 15 days
The four are Deng Hailan, Chang Yueping, Ou Qiang and Yu Ling Hailan was captured in viral footage caning a Kenyan waiter at Chez Wou restaurant in Kileleshwa. Ling, a cashier, was arrested for holding a visitor's Visa but lacked a work permit. The other two allegedly held expired Visas. High Court judge Luka Kimaru Wednesday suspended CS Matiang'i's order after the suspects filed a petition challenging the deportation. Judge Kimaru gave the office of the Directorate of Public Prosecution until Friday to file responses. DPP through their lawyer Jacinta Nyamosi had asked the court for time to file the responses since they were served with the application late. Filed under the certificate of urgency, the court directed the matter be heard on Tuesday next week. CS Matiang'i ordered the deportation of four Chinese nationals last week hours after Milimani Principal Magistrate Hellen Okwani allowed police to detain the four for 15 days pending conclusion of investigations into the incident. The four Chinese nationals were arrested following a protest by a section of netizens who called for action after a video of a man of Asian descent assaulting an employee at the restaurant emerged. Parts of the video display the official questioning the waiter and inquiring from him the part of his body he prefers being whipped. Chinese Embassy in Nairobi asked police to investigate the incident and take action accordingly. "We support the Kenyan police to investigate the whole issue thoroughly according to Kenyan laws. Whoever is found violating the law will face legal consequences," the embassy said in a tweet. The case was set to be mentioned on March 4.
(Additional Reporting: Cyrus Ombati)