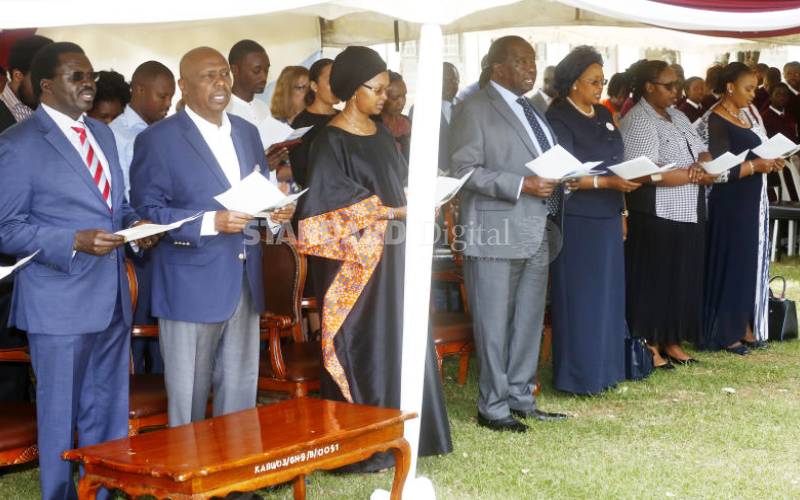 Rift Valley
The vice chancellor described the former Head of State as a role model
The Kabarak community yesterday joined the family of former President Daniel arap Moi for a Sunday service dedicated to celebrate his life. Students of Kabarak University, Moi High School Kabarak and Moi Primary Kabarak converged at the university graduation square for the service, which was held four days after Moi's State burial. Relatives included Baringo Senator Gideon Moi and family, Rongai MP Raymond Moi and family, the family of the late Jonathan Toroitich led by his wife Silvia, and John Mark Moi's family led by his wife Eunice. During the service, Moi was described as a devoted Christian who never missed church and would always keep time.
SEE ALSO: Eyes on Gideon following revamped Kanu-Jubilee deal
"Moi loved God. He would come to church and always kept time. Mzee used to sing and recite Bible verses, and because of that he is with God," said Rev Paul Ombati. Kabarak University Vice Chancellor Henry Kiplangat said they were celebrating Moi for his service to humanity. Prof Kiplangat noted that Moi started Sacho primary and high schools, Sunshine High School and the Moi Educational Centre. "All were founded by one man; the founder served humanity and we celebrate him," he said.
Future generations
He continued: "Moi planned for a lifetime and future generations will be nurtured in the institutions. He also served God faithfully till he went to be with the Lord."
SEE ALSO: ODM: Handshake still intact
The vice chancellor described the former Head of State as a role model, saying, "His values live on among his family members, the staff and students of the various institutions he established." Kiplangat assured the family of their continued support. Raymond, who stood to address the congregation, said the past 12 days had been intense for the family and thanked the people for their support. He said his father had established the educational institutions to be centres of excellence and called on all stakeholders to ensure that they continued to shine. "Let Kabarak shine for Mzee. Let us shine forever. Let's be the best he wanted."
SEE ALSO: Gideon calls for more measures to safeguard commuters
Moi died on February 4 and was laid to rest at his Kabarak home on February 12, where he was accorded full military honours.