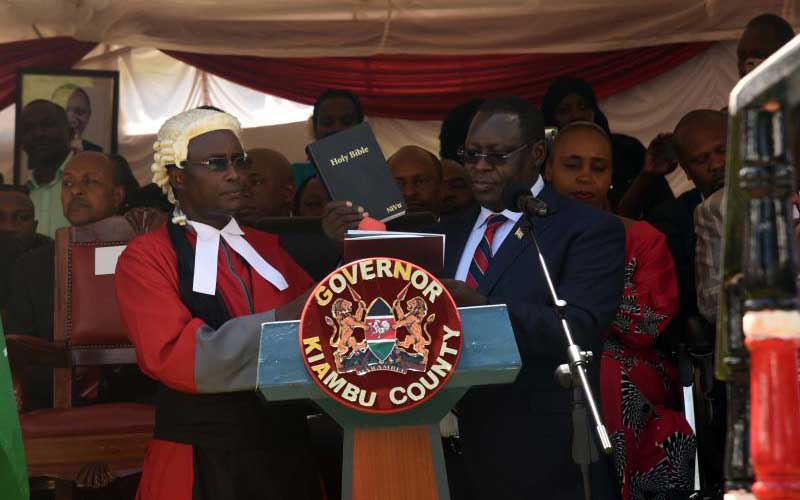 Central
Frustration from his boss started almost immediately their joint ticket won the governor's seat in the 2017 polls.
In his haunted deputy governor's office where he was reduced to a bystander by his abrasive, streetwise boss, James Nyoro's grand dreams for the once thriving farmlands of Kiambu County, never died. In the last two devolution conferences, where Governor Ferdinand Waititu would only show up briefly, Nyoro's presence filled the void. The Agricultural Economics PhD holder first became known as one of the experts who started the acclaimed Tegemeo Institute of Agriculture at Egerton University. Despite his finesse and deep understanding of what ails the grassroots, he was unable to ride into the Kiambu governor's mansion until he teamed up with Waititu, a former quarry material supplier, in the 2017 General Election.
SEE ALSO: Kiambu County receives Sh135m from business community
Nyoro's many papers at the Tegemeo Institute and his earlier career and accomplished studies at the University of Nairobi and London's Wye College did not convince Kiambu voters in 2013. It was his debut in politics and he ran as an independent candidate after losing in The National Alliance (TNA) primaries to eventual winner William Kabogo, then a two-term Juja MP. Whereas Nyoro may have had good arguments about how he would make Kiambu great, Kabogo countered with mean rejoinders, flamboyance, political experience and the TNA ticket. At the end of the ballot count, the man born in Ndeiya in Limuru – one of the driest areas of the county – had performed relatively well, garnering 241,658 votes against Kabogo's 487,631. Down but not out, Nyoro then retreated to the profession he knows best, getting appointed in 2016 as an advisor to the Presidency on food security and climate change.
SEE ALSO: Kiambu County to begin mass testing today
Soon, he quit to run in the 2017 polls and shortly thereafter, together with Bishop David Gakuyo, John Mugwe and Aquiline Njoki, launched the United for Kiambu front to deny Kabogo a second term in office. By now it was clear that Kabogo's reign was coming to an end. He had been running an elitist show that had increased rates and levies and made it impossible for those sitting on untitled land to get planning approvals. He had also brought a much hated municipal court to enforce regulations, the first time Kiambu residents had seen such. Added to his flamboyance and straight from the hip rhetoric, Kabogo had in one term earned his mark for shooting himself in the leg.
Major complication
But there was a major complication for Nyoro – emergence of Baba Yao. He had on May 4, 2015 won the Kabete parliamentary seat in a by-election, following the killing of MP George Muchai on February 7, 2015.
SEE ALSO: Covid-19: Kiambu County receives 100 beds
Baba Yao was keeping no secret that he wanted Kabogo's seat. The incumbent was dismissing Waititu's popularity as a banana stalk's blaze and challenging his Punjab University papers. Yet, many saw Baba Yao as the only guy with ability to oust Kabogo. While Kabogo's style was to invade a village and run an amazing philanthropic show with a ring of countless able bodied young men, Baba Yao was the opposite. He would fold his cuffs and plunge into the crowds. If there was tea to be bought, he did it from wads of notes in his own hands. It is against that background that Nyoro and United for Kiambu were convinced to drop their ambitions for a lineup with Baba Yao. They easily won the Jubilee Party (JP) ticket and finally took office with the third largest number of votes garnered in the country in 2017 behind only Uhuru Kenyatta and Raila Odinga's presidential tallies. Nyoro had a bad and fast falling out with Waititu, whose first preoccupation in office was to remove the United for Kiambu originators.
SEE ALSO: Covid-19: Uthiru residents donate care packages to neighbours
Nyoro's impressive academic credentials and experience were being completely ignored. Then crudely, his official cars would abruptly be withdrawn. Each morning his office would be doused with water and left water logged. They wanted him frustrated and eventually walk out. The adversity won him new admirers because unlike Polycarp Igathe in Nairobi, Nyoro stayed put. He fought on, always making a public ruckus when important guests such as President Kenyatta and his deputy William Ruto were in town. "Two cocks will always fight when in one coop," Baba Yao used to dismiss him. But the public opinion swung and it was clear who was being persecuted. The devolved unit was also not delivering to the expectation of voters. Soon, greed in the county government kicked out Baba Yao from the coveted seat, giving Nyoro an opening.