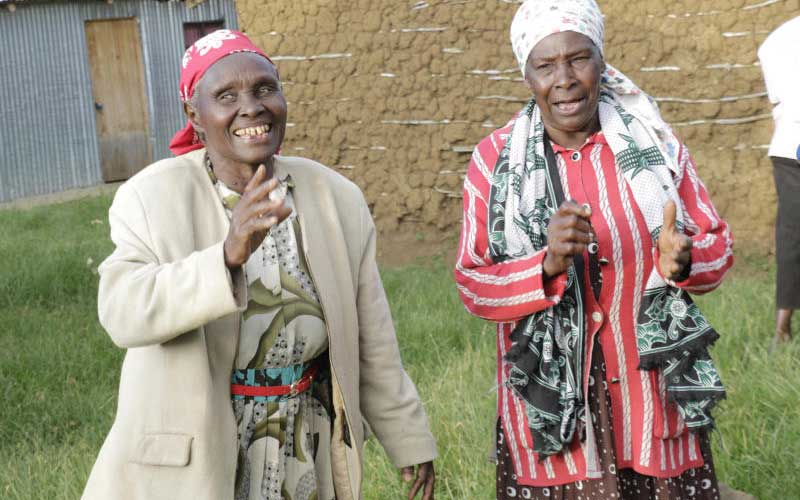 Rift Valley
Nyakinyua Traditional Dancers were a favourite entertainment group for founding President and he promised to gift them land
As Mary Muthoni, 82, walks into her unfenced compound in Piave, Njoro, her grandchildren run into her arms and help carry luggage to her semi-permanent house. Muthoni takes
Saturday Standard
team around her homestead which has five other houses belonging to her sons. Though the land is subdivided, she reveals the boundaries are not on the government map. "The whole parcel is four acres, all under my name. The demarcations are not official. I have always wished to have the land subdivided for my sons legally," she said. She recalls 1970s when she was in her 30s and was a member of the Nyakinyua traditional dancers who were a favourite entertainment group for founding President Mzee Jomo Kenyatta.
SEE ALSO: Granny wins battle for land against two fake brothers
Among Mzee Kenyatta's favourite places was Nakuru where he would spent nights at State House or his home in Gicheha Farm. The former President used to book a date with the dancers through the District Commissioner whenever he visited Nakuru. They would then prepare their performances at the chief's office and a driver sent to pick them in the evening from their homes in Elburgon, Njoro, Kiambogo, Solai and Dundori. The group would entertain Mzee Kenyatta after dinner till late into the night. The group used music to inform Kenyatta about their problems and challenges the people were facing. "We creatively composed songs to communicate our own problems and those in our society. We mainly asked for a place to be buried and our families. By this we meant we wanted land. We would leave State House at 3am," she said.
SEE ALSO: Paul Ngei bullied President Uhuru's father
For seven years, this was the routine and the founding father promised to reward them. "During one of his visits in 1976, he told us he was going to gift us with the 'burial sites' we always asked for. In 1977, we identified the best land we could get as he had instructed. He directed that we be given four acres each," said Muthoni. However, Mzee Kenyatta died in 1978 before his government could process legal documents for the group. Lucy Njambi, 94, explained that they were required to pay Sh4,800 for the land which was a good bargain. "We used to pay Sh20 every month. Not everyone would raise the amount and we often defaulted. The amount also accrued interest. Mzee Kenyatta's death further complicated the issue," said Njambi.
SEE ALSO: Kenya's finance minister who missed CBK opening after chewing blackout
The mother of eight explained that the debt accrued interest forcing some members to give up contributions and hope of owning the land. It was even more complicated for those who died leaving behind their children pursuing a gift given to their mothers. "My mother Jane Wairimu died days after Mzee Kenyatta's death. We were very young and ignorant about the land issue. Our father who will be celebrating his centenary birthday in February was sickly. We had no one to assist us," said Mary Njambi, a descendant of a late Nyakinyua dancer. Mary explained that together with her nine siblings, they tried to seek legal action to acquire the title deed but the process has dragged for years. "We had not obtained a death certificate for our mother which was a requirement in court. It took years to get it. Even after presenting it in court the case has been ongoing for more than 15 years now," Mary said.
SEE ALSO: Sh300 million to repay colonial chief family's favour to Jomo in the 1960s
John Kamanja, 69, recently had to shoulder more than Sh40,000 debt that had accumulated since the death of his mother a decade after they were gifted the land. "My mother died in 1987 having paid a very small portion of the Sh4,800. We subdivided the land with my two siblings. We had no jobs to raise the money. The little we made from our farms we used to cater for our family needs," Kamanja said. He explained the family could not make meaningful development on the land as they didn't legally own it. "As at last year, the debt had accrued to Sh45,000. We paid the amount in full and coincidentally the government fast tracked processing of the title deeds. "Though we paid, we are glad it came to help those who had no hope of ever clearing such debts," said Kamanja.
SEE ALSO: Tongoi grabs chance to rule top league with both hands
Since Uhuru Kenyatta became President in 2013, the remaining few members of the Nyakinyua dancers have been seeking his audience through his mother, Mama Ngina. "There is one woman your age who always reminds me of my father's promise. I am delighted to fulfill it on his behalf. Those of you who speak to my mother, don't forget to tell her the debt is paid," Uhuru told the members as he issued title deeds last week. The President was sorry for the delay. "Forgive me, my government and those that came before me for keeping you waiting. All the title deeds have been processed in the names of original Nyakinyua dancers and any debt that they may have has been waived," Uhuru said. During a visit to the homes, they could not hide their joy. "My children can now live in peace knowing the land is ours and free from any debt. How I wish all my peers were alive so that we may celebrate this day together," Muthoni said.