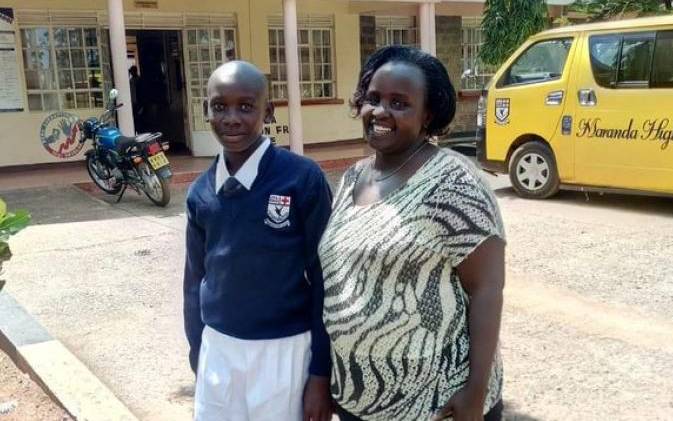 "God is real."
Those were the words of a relieved mother after an anonymous organisation paid her son's secondary school fees.
Her son was one of the top students in last year's Kenya Certificate of Primary Education (KCPE) exam in Baringo County.
Until The Standard contacted her, Lillian Ayabei was not aware that her benefactor was the Atheists in Kenya Society, an organisation that does not believe in the existence of God. This gesture is a godsend for Ms Ayabei who has been struggling to raise her son's fee.
"I am grateful someone has offered to help. I was worried my son would have to discontinue his studies because I could not afford his fees, but now I am grateful to God," said Ayabei.
Her son, Idriss Lutta, was set to join Maranda High School after scoring 401 marks at Emining Primary School and emerged the best in Mogotio Sub-County.
Chances of him joining high school looked slim as his mother could not raise the required Sh53,000 school fees.
The president of the society, Harrison Mumia (pictured), said they had fully paid Lutta's first term fees.
"The Atheists in Kenya Society commits to financially support Lutta throughout his high school education at Maranda High School," Mumia told The Standard.
Lutta's class teacher, Zipporah Rono, confirmed receiving the money, indicating that Sh27,000 had been transferred to Maranda School account through Co-operative Bank.
She also said that they had received an additional Sh18,000 to cater for the student's shopping.
Lutta reported to Maranda yesterday.
After knowing the kind of organisation that offered help, Ayabei said she appreciates them regardless of their belief.
"As long as they are not devil worshipers, we are grateful they have offered to help us and we accept. The intent is all that matters," she said.
Ayabei opened up about her financial strain when her son's school inquired when he would be reporting to Maranda.
According to Lutta's class teacher, the single mother of four had no option but let her son stay at home.
"The mother said that she could not afford the fees and she did not have any option," said Ms Rono.
Sells vegetables
Rono then took to social networking platforms with the hope of raising funds for Lutta from well-wishers.
Fortunately, the Atheists in Kenya Society came through two days after Rono's posting.
Mumia told The Standard that they saw Lutta's case highlighted on Twitter. The tweet explained that Lutta's mother was single and had four children whom she was taking care of through selling vegetables. Moved by her plight, some atheists met and decided to pay Lutta's fees, and upkeep.
Rono said the organisation's gesture had touched her.
"It is indeed a miracle because God came through at the moment when the boy's family had lost hope. God is real," she said.
Rono described Lutta as an intelligent boy and wished him the very best in his secondary education.
Mumia said the organisation helped because it believes in doing good, and that popular notion that they worship the devil or are bad people are saddening.
"Our constitution has seven objectives, one of which is to get involved in issues affecting our communities," he stated.
Mumia added: "We are doing good because as atheists we believe that all that matters is doing good for humanity. We don't believe in heaven, hell, God, blessings or the devil…that if you want to succeed pray to god. That is not how the world works. If you want to help somebody, do it, don't pray."
However, not everyone has taken the atheists' kind gesture well, going by comments on social media. Many are concerned that the group might be intending to convert Lutta to atheism.
However, Mumia maintained the organisation was not interested in converting Lutta, and called on the administration of Maranda to ensure the boy was not discriminated against or bullied simply because he had been sponsored by the atheists' organisation.