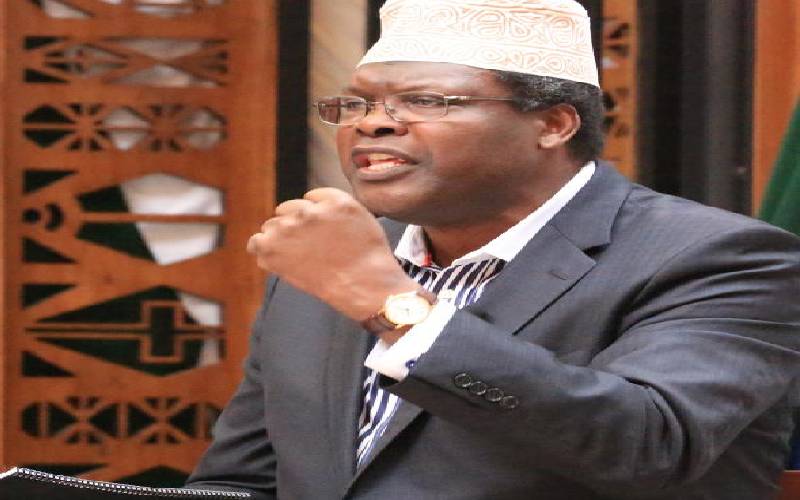 Politics
Lawyer jets back today after 23 months of forced exile in Canada
The government has said exiled lawyer Miguna Miguna is free to return to the country. In a statement from Immigration Services Director General Alexander Muteshi, the State confirmed compliance with court orders issued on December 14, 2018, granting him entry. "This is to confirm that in compliance with the court orders issued on December 14, 2018, the Directorate will facilitate Dr Miguna's entry into the country," reads part of Mr Muteshi's statement. The statement came even as the High Court yesterday ordered the department to facilitate Miguna's entry today.
SEE ALSO: Ex-MP stares at bankruptcy over Sh6 million debt
Justice Weldon Korir directed that the lawyer be allowed back using his passport and in the state it was delivered by the State. Miguna's Kenyan passport No A116842 had been perforated when it was delivered in court last year. However, yesterday's orders will enable him to get cleared without a requirement of a new passport, as he had also sought to be allowed to use his identification card as an entry document. Miguna was also allowed to have his lawyer John Khaminwa at the airport, or at any immigration area, where he will be at the time when his re-entry will be processed. According to the orders, Kenya National Commission on Human Rights (KNHCR) will file a report within seven days on whether the government had fully complied with the court orders.
SEE ALSO: Kileleshwa residents query fuel station building
The barrister will be jetting in today after 23 months of forced exile in Canada. Miguna was deported in February 2018, days after his detention for his role in the mock swearing-in of Opposition leader Raila Odinga on January 30 that year. He unsuccessfully tried to return to the country on March 26, 2018. Speaking during the burial of second liberation hero Charles Rubia in Murang'a on December 30, last year, President Uhuru Kenyatta said everyone had a right to the freedom of expression. "I have heard that some people are now planning to fly into the country. Let them come because that is their freedom," said the President.
SEE ALSO: Woman stops tourist lover from selling their love nest
In a tweet yesterday, Miguna said: "Patriots, ignore the statement by Alexander Muteshi. It is their inept damage control after the High Court orders today. "Let the rogues comply with all the court orders issued today (yesterday) and the numerous ones issued in 2018. A good start would be their delivery of my Kenyan passport." Yesterday Miguna said he had departed Canada for Nairobi. "I'm not asking for any special treatment. I have never sought so-called "red carpet" treatment. I want and demand all my rights and fundamental freedoms to be respected. I want my valid Kenyan passport back. I want court orders to be obeyed and complied with. I must enter Kenya unconditionally as a Kenyan," posted.