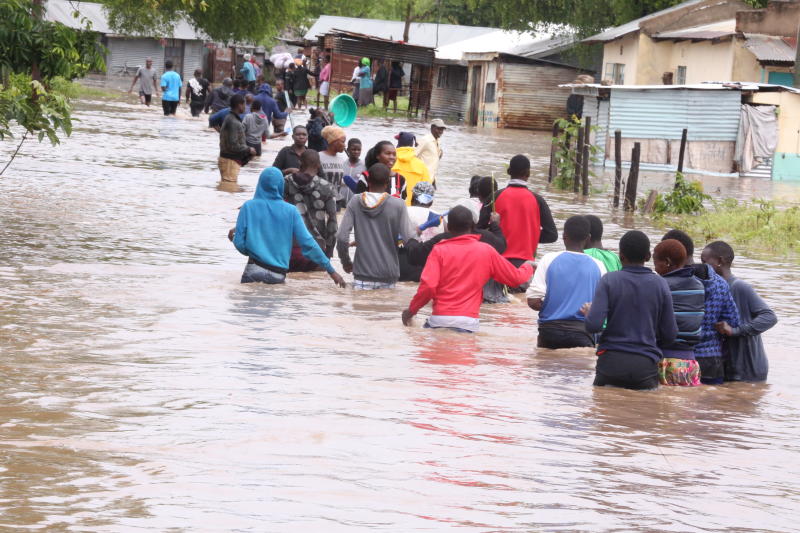 Nyanza
Homes were marooned by floods following heavy downpour on the eve of Christmas in parts of Nyanza.
There were no Christmas celebrations in various parts of Nyanza after floods devastated families in Kisumu, Homa Bay and Migori counties. In Kisumu, homes were marooned by floods following heavy down pour on the eve of Christmas in Muhoroni, Kisumu East, Nyando and parts of Nyakach. In Homa Bay County, more than 2,500 people were displaced by floods in Karachuonyo and are now camping at Osodo Primary School. The families face a humanitarian crisis after running out of food and drugs. As others made merry during Christmas, the displaced families were sitting on the cold floor in the hall, holding their chins wondering where their next meal would come from.
SEE ALSO: Fault lines in Nakuru a ticking time bomb for residents as ground shifts
In Migori County, more than 600 households camped in schools after their homes were marooned by floods. The affected residents are now questioning the allocation of Sh100 million by the county government for disaster in the 2019/2020 budget as floods continue to wreak havoc in the area. "We only received a few bags of maize and beans for Christmas. There are no drugs and mosquito nets," complained Jane Aketch, 27, at Ombaka evacuation centre in Nyando Sub County. Floods marooned houses and business premises in Nyamasaria, Manyatta and Kibos after River Auji burst its banks. The Kenya Ports Authority offices in Kibos were inaccessible following the heavy rains. Business at a gas filling station located next to the institution was paralysed after it was marooned by floods.
SEE ALSO: Schools counting losses as storm tears roofs
As residents suffer, the county government has maintained that its coffers are dry and appealed for help from well-wishers and the national government. "As a county government we don't have enough money to deal with the disaster," said the county's Director of Special Programmes Ruth Odinga who steered clear of the whereabouts of Sh100 million disaster funds. At Osodo evacuation centre in Homa Bay County, the Saturday Standard team witnessed the desperation of the families. As some mothers were breastfeeding their babies, their husbands and children were out of the camp, looking for help from well-wishers. At the camp are 17 pregnant women, old men and women and the sick.
SEE ALSO: Floods havoc: 237 killed as rains expected to continue
The camp manager Kennedy Ochola said there are mothers with three weeks old babies yet they have no drugs.