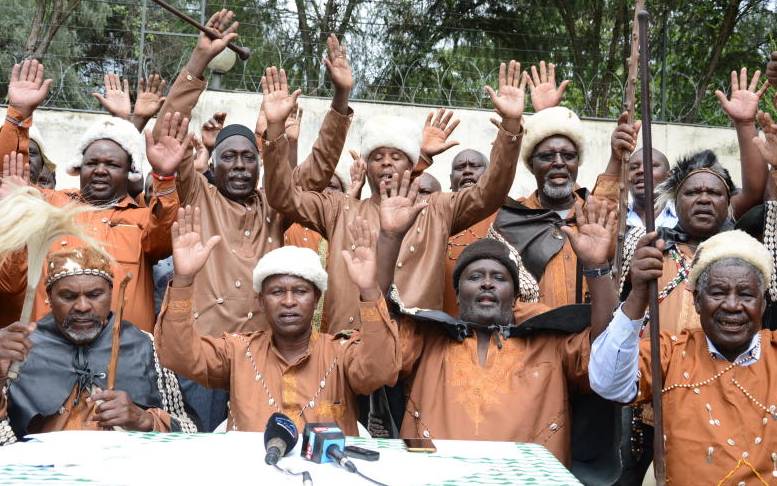 Kikuyu elders are up in arms over the misuse of their cultural attire by politicians out to get favor from the country's top leadership. Under the 'Kiama Kia Maa', the elders hit out at the organizers of last week visit to Deputy President William Ruto's home in Sugoi Uasin Ngishu. The irate leaders took an issue with a Member of Parliament from Nakuru to adorn the DP with the Kikuyu cultural wear terming this as an abomination and disrespect to the community. They were, however, quick to add that they were not opposed to the visit adding that those responsible for buying and illegally using the attire should apologize to the community.
SEE ALSO: Raila, Kalonzo allies to reap big from Jubilee House purge
The organization chairman Ndung'u Wa Gaithuma while addressing the press at Heritage Resort in Naivasha noted that it was wrong to exchange the community culture with cash. The leaders said the MP whom they did not mention had misled the DP by assisting him wear the attire which is only worn on special occasions and by delegated elders. "We are deeply shocked by the extent that some of our politicians have gone to sell their cultural believes based on politics," he said. While denouncing the delegation to the DP's home, Gaithuma added that they did not represent the community but their selfish interest. "The MP from Nakuru recently denounced this association and we were surprised to see him on TV adorning the Kikuyu cultural attire," he said.
SEE ALSO: DP Ruto meets carpenters behind convertible picnic table bench, buys 10 units
The sentiments were echoed by another elder Kigochi Wa Waimeri who said that there were special days and occasions when the attire was worn. Kigochi said that as the community elders they would not stand back and watch as their believes and attire were sold to the highest bidders. "We condemn this act by some selfish politicians who decided to mislead the DP and they were not speaking on behalf of the community," he said. He added that elders from the whole country would meet and discuss on how to discipline the MP and the purported leaders who organized the tour. "We are not opposed to anyone visiting any politician to solicit for goodies and cash but he should respect the community cultural believes and attire," he said.