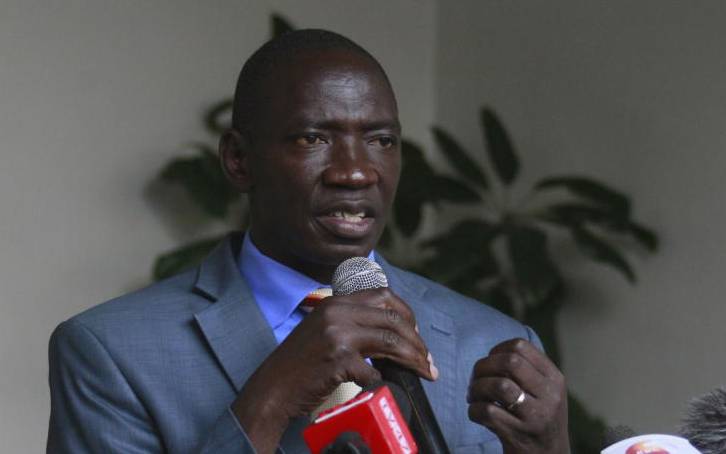 Residents living near the Meru-Isiolo border have asked the Kenya Defence Force (KDF) to stop taking land along the border, which is meant for grazing. The locals claim that KDF has started marking the land by erecting beacons on which they intend to expand their military camps. They said KDF functionaries have started to order residents out of the land they claim is suitable for the training of soldiers.
SEE ALSO: Kibochi visits KDF troops in Somalia
When contacted, government spokesman Cyrus Oguna
(pictured)
said the planned expansion is meant to bolster security in the region. Most of those affected come from the Turkana community. Their spokespersons, Stephen Lokeyo and Joseph Eskuru, said the community will be left with no grazing land yet it relies on livestock as a main source of livelihood. They pointed at the Kenya Army's School of Artillery and the 78 Tank Battalion as some of the KDF organs that were taking up the land. Mr Lokeyo averred that KDF should compensate the residents before taking the land. "If they continue extending their bases, we will be left with no grazing land. The Turkana will be homeless," he said. In Meru, county assembly speaker Joseph Kaberia added his voice to those calling for the halting of KDF's expansion. He said the expansion was especially affecting communities living in Nyambene. Mr Kaberia said it was wrong for KDF to place beacons on land that is claimed by communities in both Isiolo and Meru counties. Kaberia noted that some residents who have been waiting to get titles to part of the land in the vast Nyambene area had written numerous letters to the assembly, complaining of KDF's encroachment. "The land belongs to local communities and it is wrong for KDF or any other group to take it by force," Kaberia said. "Let the Tigania and Igembe people be given land ownership documents. We have received a lot of complaints concerning this matter." Juster Mutwiri, a resident who claims to have been affected, said consultations are needed before KDF takes the land. "We are not opposed to the armed forces taking the land. They defend the country and need it to perform their duties," she said. "We are only asking that proper procedures be followed so that our interests are taken care of."