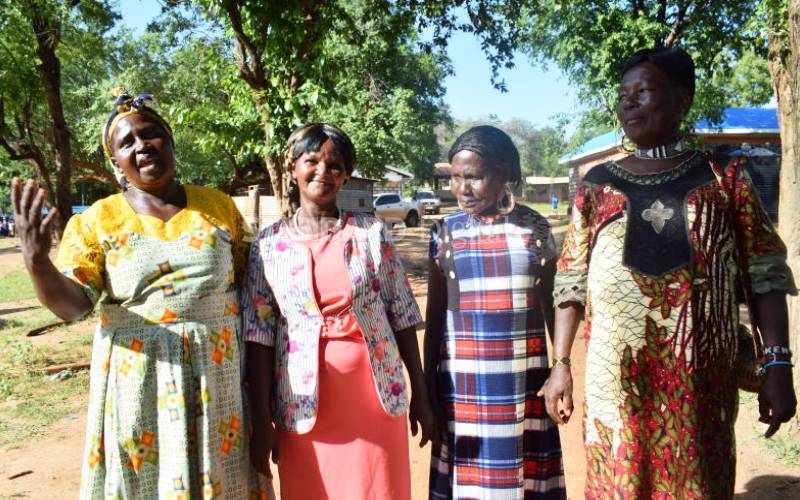 Eastern
Their source of livelihoods, however disturbing, has also fizzled out.
After spearheading Female Genital Mutilation (FGM) for decades, a number of women in Tharaka Nithi County have decided to call it a day. But although this has won them praise from the National Government and the Non-Governmental Organisations, these women have to face a new challenge: backlash from diehard traditionalists and their peers who continue to secretly circumcise young girls. The women who said they gave up a major source of income because parents of the girls they put under the knife had been paying for their services in cash and in kind, now say they are deemed outcasts by their peers. Their source of livelihoods, however disturbing, has also fizzled out.
SEE ALSO: Women hail victory as Sudan moves to ban FGM
Grace Kathini says she had been receiving Sh2,000 in cash and occasionally, some livestock for every girl she cut. "I have done FGM since 1979, so you can say the number of girls who have passed through my hands are uncountable. Normally, April, August and December were our busiest months, because the girls are on holiday and can recuperate away from the eyes of teachers and others. In a month I averaged 30 girls," she says. She says the allure of quick cash made her do it. "Tharaka suffers perennial drought and we always rely on relief food from government and relief agencies. So when I was inducted into FGM which offered a way to earn some money, I took the chance," she says. "But I have now seen people arrested and getting jailed and fined. I quit," Kathini told a gathering, which included Tharaka Nithi County Commissioner Beverly Opwora and Plan International director of programmes, Mercy Chege.
SEE ALSO: FGM cases rise as schools remain closed
The officials were at Chiakariga Girls to give certificates to more than 170 girls who had shunned FGM and undergone an alternative rite of passage, which involved career guidance, reproductive health, hygiene and other topics meant for their development. During the function, Phides Gachwe, Phyllis Kithinji, Regina Kamene and Lois Kiria also admitted that they had been conducting FGM in Tharaka for as long as they can remember, but have now called it quits. "I also had my own two girls circumcised, out of ignorance of the harm it did to them. Some women and I have stopped," says Kithinji. For quitting, she says she is now facing a backlash. "We feel lonely. The rest of the community deems us outcasts for going against FGM, which they still regard a traditional rite of passage," she says.
SEE ALSO: Sudan outlaws female genital mutilation
Kamene, who says she learnt the ritual from Kiria, says she has no regret calling it quits. Although she concedes that she has lost a source of income and has been ostracised by the community for leaving, the girls she helped cut have left her scarred for life. "The doctors showed me the effects of circumcising girls and I hated myself. In a month I had been earning some money and getting goats as gifts from parents whose children I had circumcised, but it is over now," she says. Admitting that the practice is still rife in the area, Ms Opwora and Ms Chege lauded parents who had refused let their girls undergo FGM. Opwora said police had arrested a number of FGM practitioners.
SEE ALSO: What I have learnt in my four years of research on FGM
"FGM is a form of sexual and gender based violence. In Tharaka Nithi, out of 100 crimes, 80 per cent are sexual and gender-based. This includes FGM, rapes and defilement. As government we applaud you for stopping this practice. We want to partner with you to win more converts," she said. "Mothers who let their children undergo FGM will be prosecuted. It is a crime for anyone not to report cases they are aware of," she said. "President Uhuru Kenyatta is passionate about eradicating FGM, and has committed to do so by 2022. We thank him, and we are appealing to chiefs, police, the Judiciary and county commissioners to do their part. We celebrate the practitioners who have quit," said Chege. She appealed to the Meru council of elders, the Njuri Ncheke, to join the fight against FGM.