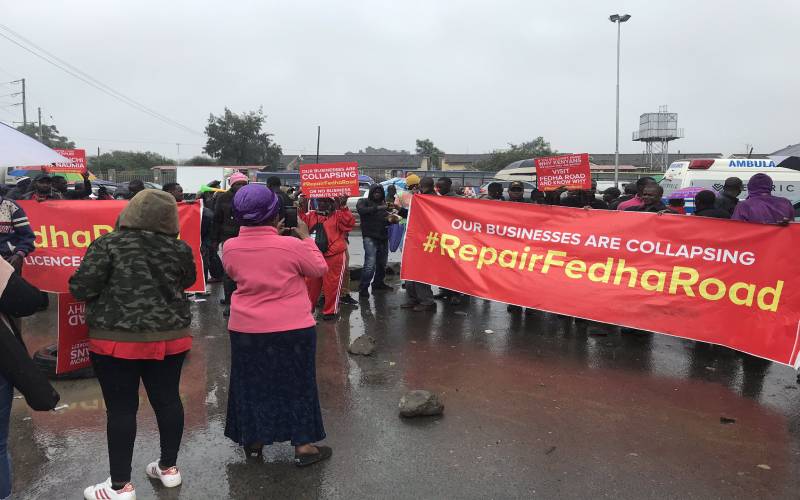 Police lobbed teargas canisters to disperse angry Fedha and Nyayo residents in Embakasi who were demonstrating over dilapidated roads in the area. Transport along the Outering Road was partially paralysed on Monday morning after the demonstrators barricaded the road with stones. Probably as a way of expressing their anger, the protesters burned tires to block the road from Fedha Junction to Nyayo Estate Gate B. But the police were quick enough to quell the demonstrations that were gradually turning violent. The demonstrators blamed Nairobi Governor Mike Sonko for being oblivious to their appeal for a better road. Photos doing rounds on social media depict a visibly plaguing road with holes that vary in size and shape, which has led to demonstrations. The holes are filled with water, thanks to the heavy downpour witnessed over the weekend and the demonstrators created a dark humor spectacle by planting a banana tree in one of the holes.
09:53 @MikeSonko your shamba has really worked. Congrats! Fedha gate B road. @SafeDrivingKE @ pic.twitter.com/7oCdijEG4s via @blasiohg

— Ma3Route (@Ma3Route) December 2, 2019
Unidentified female demonstrators insinuated they have been taken through a cat and mouse game by Governor Sonko and Kenya Urban Roads Authority (KURA). "We received a message from the governor saying that he had allocated money to KURA to repair this road but KURA told us this is an orphan road hence they need money to be allocated on this road," she said. She urged Governor Sonko to follow up on the matter and ensure that that his county allocates funds for the repair of the potholed road. Another male resident claimed that insecurity has been rampant along the Fedha-Nyayo road because robbers take advantage of vehicles' slow speed on the road to execute the theft. "As we speak, there are people who have been robbed, cornered because of the nature of the roads. You have to slow down because of the potholes before you can reach to Gate B," he said. He also attributed to dilapidation of the road to the Chinese constructing the Outering road who ferry their heavy machines through the Fedha-Nyayo road.