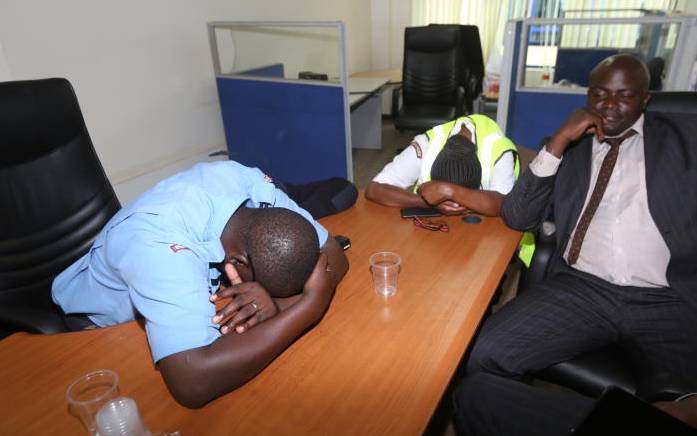 The Ministry of Interior and Coordination of National Government is the most corrupt ministry, this is according to a report released by an anti-graft body. On Tuesday morning, the Ethics and Anti-Corruption Commission (EACC) released a report titled
The National Ethics Corruption Survey 2018
that presented the findings of comprehensive research conducted from November 16 to December 19, 2018. The Interior Ministry accounts for nearly half of the corruption cases in the country, the report indicates. "Respondents indicated that one is most likely to experience corruption and unethical conduct in the Ministry of Interior and Coordination of National Government (47.5 per cent) followed by the Ministry of Health (17.9 per cent), Ministry of Agriculture and Irrigation (13.8 per cent)," EACC reported.
SEE ALSO: EACC arrests former KPC employees over Sh30m scandal
The Registrar of Persons which falls under the Interior Ministry has been singled out by EACC as the most corrupt government institution. Other notorious government institutions as highlighted by the report included public hospitals, police stations, county government offices and the Ministry of Education. "On Government Departments and Agencies, one is most likely to encounter corrupt and unethical practices with the Kenya Police (39.6 per cent), Kenya Power and Lighting Company (12.per cent), National Hospital Insurance Fund (11.1 per cent), National Youth Service (9.5 per cent), Courts (8.6 per cent)," EACC reported. Lands and Transport ministries were also on the spot of corruption prevalence.
Kenyans and bribes
SEE ALSO: Let's face the truth of living a lie on graft war
In a group of ten, seven people would pay a bribe to obtain services from the Kenyan government, the survey established. According to the report, the number of people paying bribes to the government in exchange for services has increased by 35 per cent from 2015 and now stands at 73.1 per cent. The surge of bribers corresponds with Kenyans who seek government services which have increased by 12 per cent to 75.3 per cent. Most people would pay bribes for quick services, employment or to avoid problems with the law enforcers. In some cases, Kenyans have to bribe in order to access medical services or to deal with poverty and drought.
SEE ALSO: Agencies seek law to end turf wars in fight on graft
According to EACC, only 5.8 per cent of people report corruption cases after paying a bribe. The average bribe paid now stands at Sh3,833, the lowest recorded since 2012. The highest average bribe paid was Sh7,081 which was recorded in 2016.
Nightmare
Corruption which is the country's worst nightmare covers nearly half of the challenges Kenya faces, the anti-graft body said.