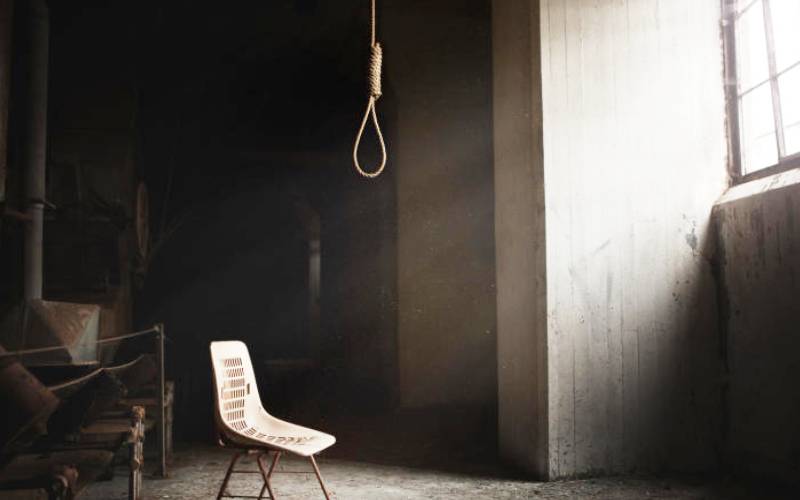 Police in Kakamega are holding a man in connection with the death of his 11-year-old daughter at Shianda village in Malava sub-county. Julius Mugambi, 48, was arrested and taken to Malava police station moments after the girl's body was found dangling from the roof of their house on Friday. Area assistant chief Jackstone Ambulwa told journalists the suspect fought with his wife Victoria Mugambi.
SEE ALSO: Woman throws her three children into River Nzoia
Mugambi confessed to have beaten up his wife after he claimed to have eavesdropped on a phone conversation between Victoria and another man. "I thought she was being disrespectful and I slapped her before I went outside and dug a grave where I intended to bury my clothes and hers and later drown myself in a river," the suspect told journalists. Victoria said Julius may have strangled their daughter after she escaped during the parents' fight. Ambulwa said police are not convinced the child committed suicide. "It is hard to imagine that she killed herself from the tight angle her body was found."
SEE ALSO: Reprieve for Malala as Registrar faults ANC party over his expulsion
Villagers said the suspect could have intended to secretly bury the body he had dug behind their house. But Mugambi was quick to deny the claims, explaining that he had no intention to harm his child. "If I had bad intentions, I would have killed much earlier, I don't have a problem with my children, I was equally shocked to see the body hanging." A neighbour said every time the couple fought the girl usually ran away for safety, but on that night, she was not seen. In a separate incident, a woman was arrested for allegedly attempting to dump her three-week-old baby at Pondeni in Malava sub-county.
SEE ALSO: AFC Leopards star Nabwire feels virus disruption is a blessing in disguise
Hadija Shikuku, 33, had opted to throw away the baby after her husband started doubting whether the baby was his. Fubuye assistant chief Brown Juma said the woman was determined to save her marriage and do away with the baby. A Good Samaritan took the baby to Malava Sub-county Hospital where it is recuperating. Shikuku will be charged on Monday.