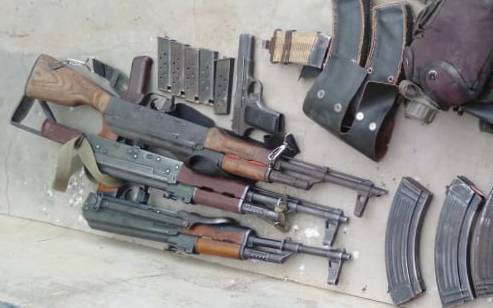 Kenya police are holding two men believed to be members of the Al-Shabaab terror group after they were handed over by Somalia police. According to the officers, suspects are believed to have fled to Somalia after committing a crime in the region and near Liboi border. They have been linked to the deadly October 12, 2019, attack in Liboi where 11 General Service Unit personnel were killed. When they were handed over to Kenya on Wednesday, one of them had an AK47 rifle belonging to Kenya police; an indication it was one of the guns stolen from the slain officers. North Eastern Police Commander Mr Paul Soi said the suspects are under interrogation before further action is taken on them.
SEE ALSO: Security agencies foil Al-Shabaab kidnapping incident in Wajir
Those handed over were identified as Farah Ahmed Sanbul alias Faragon and Mihat Daar Khalif and they had an AK47 rifle belonging to Kenya Police which had 30 bullets, another AK47 rifle belonging to Somalia with five magazines and 117 bullets, another AK47 rifle with four bullets and a pistol which had five magazines with 40 bullets. This comes days after police identified Abdullahi Banati, as the man who led the team that planted the Improvised Explosive Devices (IED) leading to the death of the officers stationed at the Harhar GSU camp on October 12, 2019. Police say Banati planned the attack alongside Al-Shabaab operatives based in the Daadab refugee camp, which has been associated with several other terrorist attacks. According to police, Banati and his team operate along the Kenya-Somali border and have been executing attacks on security agencies. "Police have traced the activities of Banati and his team of militants to the border and it is suspected that he escaped to Somalia with the rest of the operatives," said police in a statement.
SEE ALSO: Al-Shabaab militants kill police reservist in Mandera town raid
Banati is reported to have joined the militant group in 2012 and took part in the attack on the Baure Kenya Defense Forces (KDF) camp in 2015 where 11 of his colleagues were killed. He is reported to have been injured but went into hiding only to resurface in 2018 when he took part in several attacks along the Somalia border. Police have now appealed to members of the public with any information on the suspect to report it to them immediately. The officers from the Harhar GSU camp died at Degow, on the road between Liboi and Damajale close to the Kenya-Somalia border as they were conducting a routine security patrol at around 4 pm. A joint patrol team of officers drawn from Kenya Defence Forces (KDF), Administration Police, Rapid Border Patrol Unit and Kenya Police Service have since been deployed to comb the area around the scene of the incident.
SEE ALSO: Two minors, terror suspect killed in Kwale police raid
And a matatu driver saved the lives of nine people from an attempted terror attack after he sped off as about ten men waved him down and later opened fire on their vehicle on the Elwak-Borehole Road in Mandera. Police said no one was injured in the Wednesday evening incident after the driver sped off. The vehicle was carrying construction workers when it was targeted. Local officials termed the driver as brave even as others said they fear there are terrorists operating in the area. The driver was said to be a local while the passengers were non-locals who were the targets. Construction workers and those operating in quarries have in the past been targeted leaving dozens dead and others wounded. Security has been enhanced in the area.