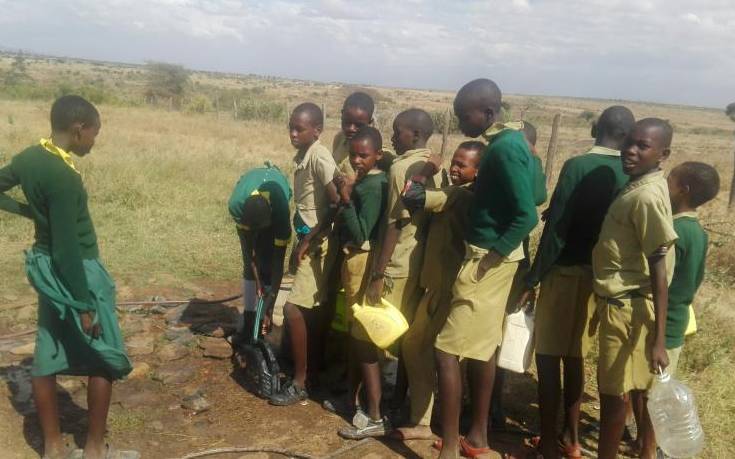 Rift Valley
The school has 325 pupils – 162 girls and 163 boys – who come from the neighbouring Samburu, Turkana, Pokot and Maasai communities.
Samson Lenguya was a boy when herders raided their homestead to steal livestock. He remembers people crying, shouting, fighting and running away from burning homes in Timau in Laikipia North sub-county. He says they found themselves at Segera Mission where they stayed for several weeks. After the conflict ended, Lenguya's family returned home. But he vowed to return and join a school at the mission. "Everything was calm at the mission and I felt that was the only place l could live without attacks," Lenguya said during an interview at Segera Primary School.
An engineer
Lenguya is now in Standard Seven and dreams of becoming an engineer who will build good roads for his Samburu community. The school has 325 pupils – 162 girls and 163 boys – who come from the neighbouring Samburu, Turkana, Pokot and Maasai communities. They have found a refuge from conflict and retrogressive cultural practices such as cattle raids, early marriages and female genital mutilation. "I am a junior moran. If l was not in school, l would be preparing to raid and steal cattle from other communities. But being in school makes me see things differently," said Immanuel Oloitiptip. School Director Serge Musasilwa said the arid nature of the region drives the communities to violence due to lack of pasture and water. Mr Musasilwa said the teachers strive to mould the learners into peace-loving citizens who can pursue professional careers. "The Turkana, Samburu, Pokot and Maasai children will not fight over grass, raid others for livestock and kill. They are peacemakers. Someday, they will meet as lawyers, engineers, doctors, teachers, pilots and nurses. They will think of their professions and not becoming herders," said Musasilwa. He continued: "All the pupils speak only in English, whether in school or outside. It helps to unite them." The director said that during past conflicts, children from the warring communities who attended the school had learnt to accept each other. "In fact, some of them wondered why their parents were fighting," he said. At the school, pupils are taught about the negative effects of female circumcision and early marriages. Boys are also taught to respect girls. "We tell them that being a moran is not about being above the law, being rude or a licence to steal and kill. We tell them that everyone is a child of God and when they do wrong, God punishes them."
Wild animals
In their quest to quench their thirst for education, some of the children have to brave the dangers of wild animals. Head teacher Julius Mutura said there are pupils who trek more than 10 kilometres to and from school, which forces them to wake up very early. "These children live in a harsh environment and have to walk long distances to school. This affects their attendance. But their biggest challenge is the wildlife," Mr Mutura said. He said that when more than 20 pupils missed school it was usually because a dangerous animal had been spotted in the area. Elizabeth Ngawon, who comes from Samaria area, which is over four kilometres way, said she had missed school on several occasions for fear of meeting elephants along the way. The 14-year-old girl, who is in Standard Eight, said she wants to become a journalist to highlight the challenges faced by the communities.