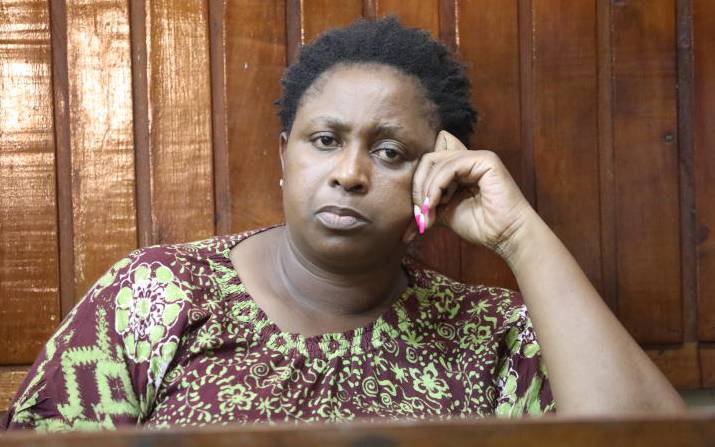 Malindi Member of Parliament Aisha Jumwa will spend the night in police cell today as she awaits tomorrow's court ruling in which the prosecution wants her detained for three weeks.
Jumwa was arrested on Wednesday
at her home in Kakuyuni, Kilifi County, following a fracas at the homestead of Ganda Ward ODM Party candidate Reuben Katana. She and four others are accused of storming Mr Katana's home and causing chaos which led to the shooting of Mr Ngumbao Jola to death. Jola was the uncle of ODM aspirant Reuben Katana. Police records at the Malindi Police Station revealed that the MP arrived at Katana's home in a convoy of three vehicles accompanied by her aides and supporters. The group went to confront Katana and his agents claiming that the ODM faction was holding a campaign meeting after the deadline given by the IEBC had elapsed. The confrontation, according to the police, triggered violence between the two sides which escalated into gunshots which claimed the life of 48-year old Ngumbao Jola. A supporter of Mr Katana, however, told the
Standard Digital
that their meeting in Ganda was about ensuring that their votes were secured. "Aisha stormed in with her goons. They wanted to disrupt the meeting which was very peaceful and it was almost coming to an end. They became chaotic in front of the police officers who did not do anything to stop them. They just watched as Aisha abused everyone, wanting to fight everyone until Jola was shot," he said. She and her co-accused will be taken to court to tomorrow face charges in connection with the gun drama. Mombasa court will then decide whether or not to rule in favour of the prosecution, which seeks to have the legislator detained for 21 days as the investigation continues. The Ganda Ward seat fell vacant after the nullification of the election of Abdul Omar, an independent candidate who was also supported by Aisha Jumwa.