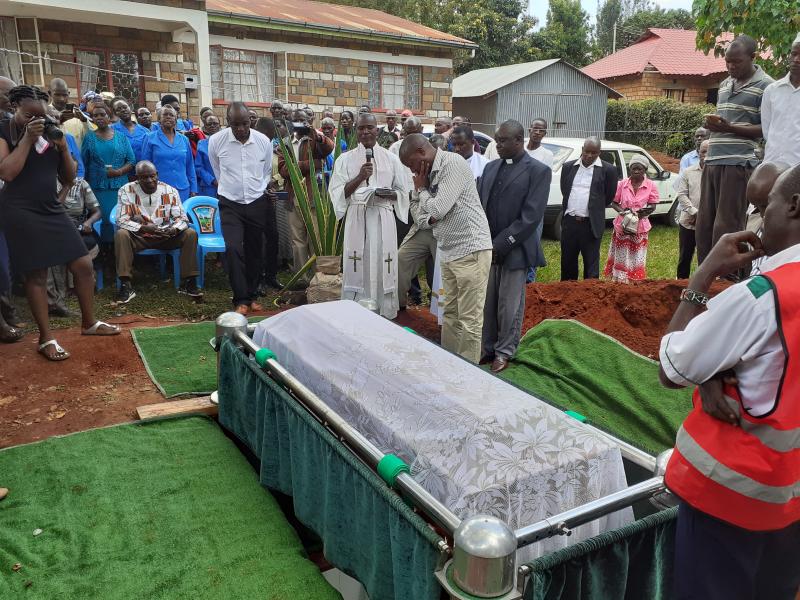 Nyanza
Parents chose to bury their daughter in line with Christian beliefs.
Remains of Anne Mogoi Birundu, who was among 32 Kenyans killed in an Ethiopian Airlines crash, were yesterday buried in Bonchari, Kisii County. Her parents Benson and Lorna Birundu said they chose to bury their 30-year-old daughter a few metres from the door to their house. The Abagusii traditions dictate that when a woman who has attained the age of marriage but has not left her parents' home dies, she should be buried at the edge of the parents' compound. "We are Christians and did not want to go against the church where our daughter was brought up. This is a unique send-off for our daughter who always kept the family at heart," Mr Birundu said. Rev Boris Ogero of Lutheran Church, Itierio led the ceremony. Anne's remains were buried at 1pm.
SEE ALSO: Final minutes of Ethiopian plane
Mr Birundu said the family would spend half of Anne's compensation fund to build a mausoleum in the compound and also fund a community project. He described Anne, his only daughter, as a cheerful, sociable and caring person who was enthusiastic about making the world a better place. "We will help the community and let them learn from the good deeds of our daughter. She had passion to help the girl-child and we will ensure her legacy continues." Elsewhere, in Nakuru County, a family that lost five of its members in the crash was also preparing to bury their remains. John Karanja lost his wife Anne Wangui (61), daughter Caroline Nduta (34) and grandchildren Ryan Njoroge (seven) Kerry Paul (four) and Rubi Paul (nine months).
SEE ALSO: Ethiopian draft report blames Boeing for 737 MAX plane crash
"It has been the toughest moment for my family after the disaster," said Mr Karanja. The family had erected a plaque in memory of their loved ones after it was reported that their remains would not be found. "The site of the March 10 plane crash was scary. I could not identify any body parts of my family members. This is when reality struck that recovery of the bodies was next to impossible because of the impact of the crash. I, therefore, decided to set up memorial plaques," Karanja told
The Standard.
Caroline was married to Paul Njoroge, a resident of Kiangai village in Bahati. The couple planned to settle in Canada, where Caroline worked as an accountant, by last April.