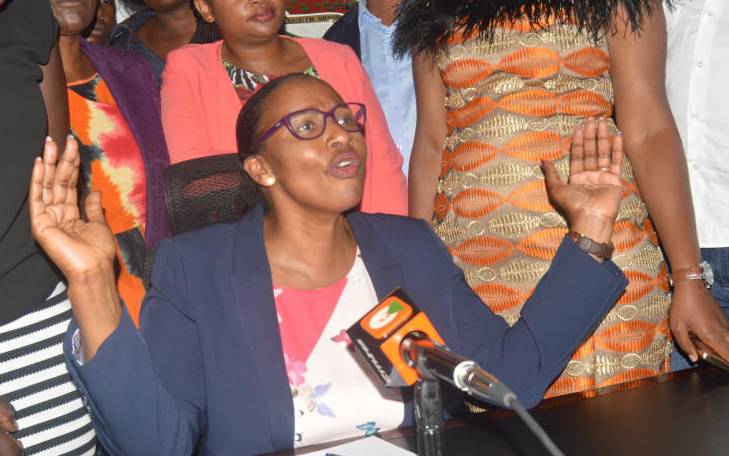 Bloodstained floors, broken furniture and gunshots marked the return of Speaker Beatrice Elachi to the Nairobi County Assembly yesterday. Ms Elachi stormed the assembly precincts yesterday morning and camped at the Speaker's office citing a court order reinstating her after her impeachment in September last year. Accompanied by Homa Bay Woman Representative Gladys Wanga and about 13 ward reps allied to Jubilee and Orange Democratic Movement parties, Elachi announced that she was back to stay and dared anyone disgruntled by her return to force her out of the office. A fistfight began when ward reps supporting acting Speaker Chege Mwaura and Majority Leader Abdi Guyo stormed into Elachi's office.
SEE ALSO: Eight in court over building approvals
Took sides
Ward reps then took sides and the ensuing shouting contest quickly morphed into a fist fight that left behind destroyed furniture and several bruised faces. Police then lobbed teargas into Elachi's office to end the melee before dozens of unruly youth emerged and joined the fray. Chanting "
Guyo lazima aheshimu Governor Sonko na Speaker Elachi
(Guyo must respect Governor Sonko and Speaker Elachi)", the youths kicked and hit everything and everyone in their path. They only dispersed after police fired warning shots in the air.
SEE ALSO: Stand-off at City Hall as ward reps spend night in chamber
Journalists covering the fracas were caught in the ensuing chaos and scampered for safety amid choking teargas fumes. Meanwhile, Mr Guyo maintained that Elachi would not be allowed back to the Assembly and that Jubilee Party ward reps only recognised Mr Mwaura as their speaker. "You are trying to come back through the back door. We will not allow that. How can you, with only six MCAs, try to impose yourself on us," he posed. He was supported by Anthony Kiragu (Waithaka), who said ward reps would ensure Elachi was kicked out. "We still maintain our earlier decision to impeach her and we will make sure she leaves. She cannot represent us," he said.