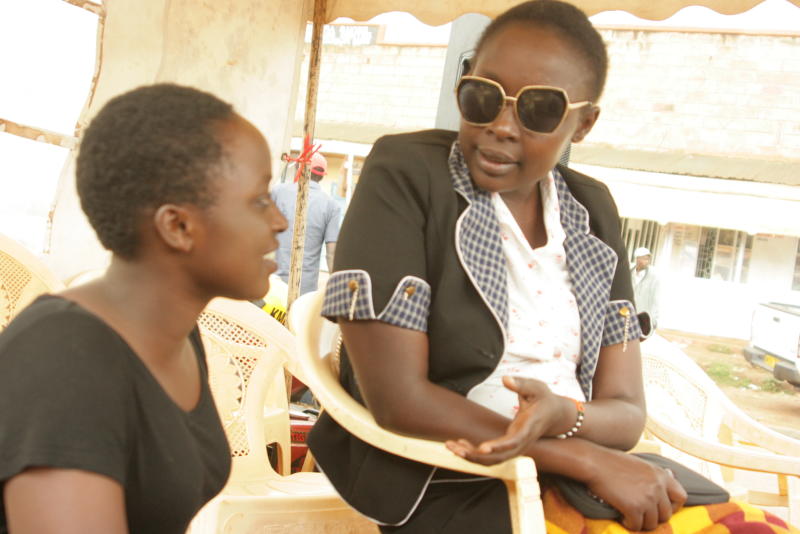 The monstrous attack on August 6, 2019 will haunt Norah Chepchirchir for the rest of her life. In a diabolical act of brutality which has horrified residents of Eldama Ravine Town in Baringo County, unknown assailants deliberately blinded the mother of two and gouged out her eyes. This week, Chepchirhir 32, bravely spoke about her hideous 12-hour ordeal as police continue with the hunt for perpetrators of the attack. Taking off her dark glasses to reveal her injuries, she sobbed: " This isn't the life I dreamed of when growing up. I miss everything. I feel like a ghost."
SEE ALSO: Uhuru's balloon internet video call excites residents
"I can clearly hear everyone around me, but I can't even see my own hand in front of my face. "They robbed me of one of the most precious things in life," Chepchirchir says as a relative helps her to sit under a tree for the interview. She added: "I think the hardest thing is the fact that I am not going to see my kids' faces again." Chepchirchir says worst is that her dreams of teaching is in jeopardy after the attack. After successfully completing her teaching studies at Meru Teachers Training College, she was looking forward to join the teaching fraternity in January next year.
SEE ALSO: Shock after pupil is defiled in hospital ward
Teaching having been her dream career, her desire was to help improve quality of education among learners back in her rural village in Boror, Eldama Ravine. But now her plans have changed. With her Teachers Service Commission (TSC) number, Chepchirchir now has to undergo another course on braille at Machakos Institute for the blind. The system involves touch reading and writing, in which raised dots represent the letters of the alphabet. It also contains equivalents for punctuation marks and provides symbols to show letter groupings. " I now have to find a new way of doing things," Chepchirchir says as she takes us through her next step in life.