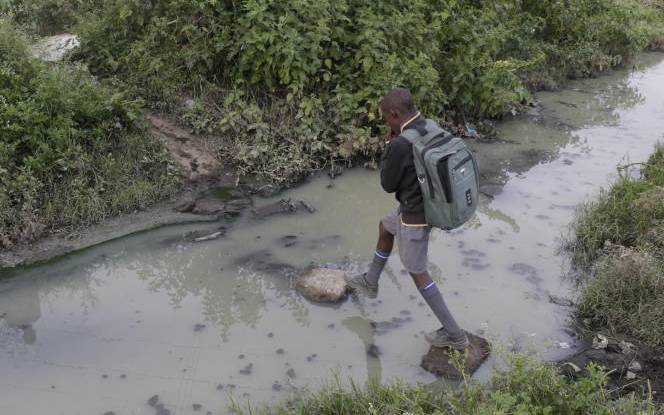 For more than four decades, wastewater from thousands of homes, businesses, and schools in Nakuru town has been making its way to the Manyani and Langa Langa sewer treatment plants. Now after years of population growth and the anticipated elevation of Nakuru to city status, the Nakuru service-run plants are at crossroads, and the sewer customers in densely-populated estates risk contracting diseases due to the poor state of the infrastructure.
Access to services
According to statistic from Nakuru Water and Sanitation Services Company (Nawassco), less than 300,000 of Nakuru's estimated one million people have access to sewerage services.
27 per cent
This accounts for only 27 per cent connectivity of sewer services. Access to improved sanitation facilities is low, with 46 per cent for Nakuru town and 53 per cent for Nakuru County, according to Nawassco. "High population has overstretched our sewer lines. We are using an outdated sewer line connected in colonial-era that either blocks or breaks because of pressure," says the company in charge of sewer services Paul Kihumba.
Sell foodstuff
Small-scale traders also sell foodstuff, including vegetables and roasted maize, on top of the drainage system that carries waste mixed with rainwater from the sewer line. Despite dangers they are exposed to, the locals seem ignorant. "Where would I sell my foodstuff if not here? We are used to such kind of environment. Today is better because of rains as the waste is not flowing in large volumes," said Miriam Wangui, a sukuma wiki vendor. Another local, Benson Gichuru, 45, told The Standard when he settled at the estate a decade ago, there was no problem of sewer leakages. Locals began reporting the problem about eight years ago. The sewer and drainage system, Gichuru says, are connected from estates on the upper part of Nakuru town. He accused Nawasco and the county's leadership of failing to get a lasting solution on sewer and drainage. "We fear that without proper plans of handling the sewer and drainage, we might continue experiencing the menace of waste flowing into our homes. This is a pathetic state that should be addressed in plans of having a city," he said.
Nothing much
However, Kihumba said there was nothing much Nawassco could do, apart from maintaining sewer lines and unblocking a number of lines to ensure people reside in a safe environment. Rehabilitation of sewer lines was done between 2008 and 2010, connection done at National Council of Churches of Kenya, Mwariki, Central Business District, Siaya Road within London estate and Njoro sewer (Shabab). County Chief Officer of Health Samuel King'ori said the county was working with various stakeholders to ensure sewer systems and drainage were fixed. Reported by Mercy Kahenda and Amos Lumbasi.