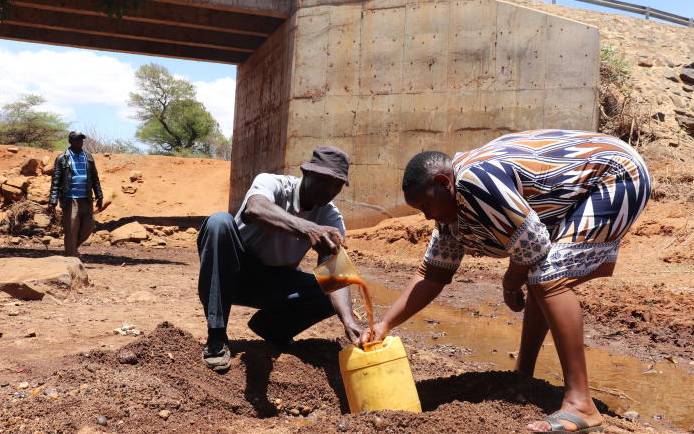 Central
Desperate residents attach gutters to the base side of vehicles to collect dripping water.
Drivers of sand trucks have become heroes in semi-arid Mutuovare within Mbeere South for stopping to allow thirsty residents to collect water dripping from wet sand. The area is among the several pockets of Mbeere region facing acute water scarcity. Wells, waters pans and rivers, including Thuci and Ena, have dried up. Residents walk long distances to fetch water in the few boreholes in the region or from the hydro-power dams.
SEE ALSO: State remits Sh10,000 stipend to 302 Kenyan athletes
Some residents of Mutuovare's source of water is a borehole that they say frequently breaks down due to overuse. At such times, they buy water from vendors at Sh20 for every 20 litres, which many households cannot afford. The sand transporting trucks have, however, come to their rescue. Truck operators scoop wet sand from the banks of River Tana at the far end of the Mbeere to transport to other parts of the country. They make a stopover at Mutuovare market. Desperate residents, who see the trucks as godsend, attach gutters to the base of the trucks to channel dripping water to containers. Martha Mutuku says that is the only easily available source of water. Alternatively, they have to travel to the crocodile-infested Gitaru dam that is more than 10km away.
SEE ALSO: MCAs spent full budget allocation in just six months
To get to Mutuovare market from her home, Ms Mutuku has to walk for about 30 minutes. "We wake up at the crack of dawn so that we can be at the market to tap water from the first lorries. I'm always on the road with my donkey as early as 5 am," she said. She described the drivers as goodhearted for allowing them to tap the water. Some of the drivers stop just to allow locals to harvest the dripping water. Charles Maina, a lorry driver, said they parked the lorries at inclined angles so that water could drain easily for the residents to draw. "Even when I have no other purpose to stop, the cries of women cannot allow me to just drive on. They pleaded with us to let them tap water from the wet sand. We understand their water problem so we cannot deny them," he said.
SEE ALSO: Ruto elected to serve at global governance body
However, they have to stop for up to two hours to allow the residents to tap as much water as possible. For Ngari Nyaga, the dripping water from sand is a cheaper alternative to the water sold by vendors at Sh20 per jerrican of 20 litres. "We have lorries frequently making a stop at Mutuovare so we are able to source the water and save ourselves from the long exhausting trips to water sources or paying for the commodity," he explains. The residents fear they will continue depending on those unconventional means of fetching water until the Government provides them with the commodity. In Mbeere North sub-county, residents dig holes in dry river beds to harvest water.
SEE ALSO: The disinfecting booths, are we using them right?
They fear that a source might also dry up. Residents there say farmers upstream have blocked river flow to get water for irrigation, leaving those downstream thirsty. Last week, they held a demonstration to push the Government to compel the unblocking of the river. It is, however, not all gloom, as the Government and other actors have embarked on projects to provide water. One of the most ambitious projects is by the Kenya Electricity Generating Company and the Embu County Government for Sh124 million water project that will provide piped water to several communities.
SEE ALSO: 231 Paralympians receive Sh10,000 each from Government
Tana and Athi River Development Authority, NGOs and the Catholic Church locally are also involved in various water projects. The national government has promised to construct four multi-billion shilling Ruvingaci, Thambana, Thuci, and Kamumu dams.