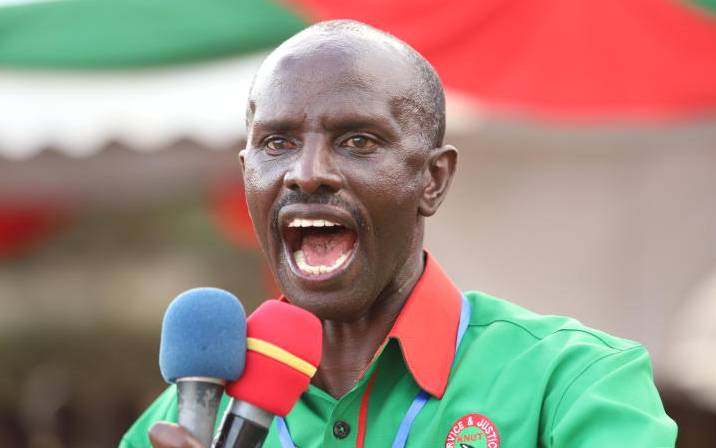 Education
Make-or-break rulings that will determine future of embattled Secretary-General and the union due on Tuesday and Friday
This week will be a deciding moment for the Kenya National Union of Teachers (Knut) as the Labour Court will make two major rulings that will shape the politics of the union's leadership. The Employment and Labour Relations Court is expected to rule on whether a meeting convened to kick out union Secretary General Wilson Sossion was properly convened and whether the National Executive Members (NEC) were properly served with the orders stopping that meeting. Justice Hellen Wasilwa will on Tuesday rule on whether embattled Sossion is legally in office after a faction allegedly held a meeting and resolved to kick him out. Justice Wasilwa, in her orders issued on September 2, reinstated Sossion as the union's boss until a case he filed is determined.
SEE ALSO: Wetang'ula suffers big blow in Ford Kenya fight
The Hesbon Otieno-led faction that challenged the court orders that reinstated Sossion will also be keenly following the proceedings to see if the orders will be lifted.
Court verdict
Separately, on Friday, the Labour Court will make a ruling on the fate of the embattled Secretary General in a case that seeks to challenge whether he can be an MP and also hold top office at Knut. Justice Maureen Onyango will decide whether Sossion ought to have forfeited his position as in the union after being nominated to Parliament by ODM. This case was filed by seven teachers who argued that his political interests were in breach of the Knut constitution.
SEE ALSO: I'm still Ford Kenya leader, Wetangula maintains after ouster
They argued that he is already a State Officer earning a salary from tax payers hence is barred by law from holding any other office. In reply, Sossion argued that the union national delegates in a conference held on December 13 and 14 last year gave him the green light to continue serving as secretary general. "ADC is the supreme decision making organ of the second respondent (Knut). Resolutions and decisions of the ADC are binding on all members unless otherwise overruled in an ADC," argued Sossion. He argued that his responsibilities do not hinder his work at the union and there is no law barring him from running the two offices. On the Tuesday ruling on whether Sossion should remain in office or not, his lawyer Judith Guserwa told the court that the NEC officials were served with the orders of the court. Okong'o Omogeni representing the union argued that the embattled Secretary General hurriedly wrote a letter calling off the NEC meeting against Knut's constitution, which dictates that he ought to have consulted chairman Wycliffe Omucheyi.
SEE ALSO: KCPE and KCSE, not ticket to heaven, postpone exams
According to the lawyer, after Sossion called off the meeting held last month, more than four members sanctioned another meeting which agreed to suspend him and appointed his deputy, Otieno, in an acting capacity. "Jesus was not crucified alone, he had followers. He (Sossion) knew he was going to be removed from office, he knew it was one against 41 hence he ran to the court," said Omogeni, who is also the Nyamira Senator. The verdict of the two cases will shape the next phase of Knut leadership wrangles as internal jostling for top positions mounts. Last week, Sossion secured fresh orders instructing the Nairobi County Police Commander to ensure he accesses his union office.
Security order
"The county commander of police and or officer commanding Central police station or Kamukunji police station or any other officer is directed to assist in the enforcement of this order by enabling the applicant to have access to his office at the Knut building along Mfangano Street and provide security at the said building," Justice Onyango ruled.
SEE ALSO: We must tread very carefully on reopening of learning institutions
But even as teachers wait for the two rulings, back in the union, the war between Sossion and his rivals deepened last week as a section of the unions executive secretaries met and resolved not to take instructions from him. The Kenya Executive Secretaries Welfare chairman Joe Mungai, said the embattled Secretary General ceased being in office. "We have also agreed that we are not going to take orders from Sossion, be it a letter, phone call or whatever it is. We are only going to take orders from or any correspondence from Otieno," said Mungai. The officials said they are in solidarity with all the teachers who have been dismissed. [Augustine Oduor, Kamau Muthoni and Nanjinia Wamuswa]
SEE ALSO: State to recruit 10,000 teachers in readiness for school reopening