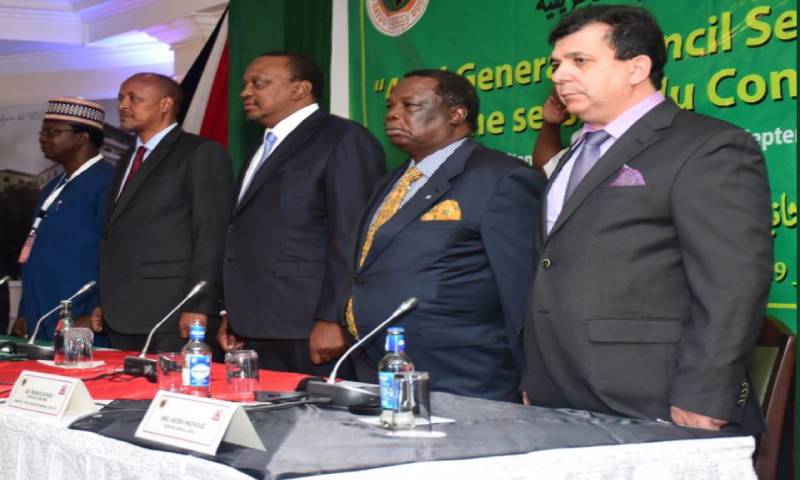 President Uhuru Kenyatta has urged the Organization of Africa Trade Unions Unity (OATUU) to help foster solidarity in the continent. Gracing the OATUU General Assembly in Nairobi, President Uhuru challenged the Trans-Africa trade union to advocate for immigrant labour citing that it strengthens bonds and makes African countries prosperous. Buoyed by the uphill battle to establish better working conditions, President Uhuru called for respect of workers, human dignity and the fundamental rights to earn a living.
Pan-Africanism
SEE ALSO: Brace for tough times, CS tells betting firms
President Uhuru asked the organization to be at the forefront in pushing for free movement of goods, people, labour and capital across the entire continent. He urged the labour organization to think of a free movement in Africa as part of the dream that led to the formation of OATUU in 1973 in the wake of the African Continental Free Trade Area initiative that aims at creating a single continental market for goods and services. The initiative was conceptualized by the African Union and President Uhuru has urged laying of groundwork for closer cooperation and integration in Africa as the continent ushers ACFTA. "I call on the present leadership of the OATUU to help build the bridges of unity and Pan-Africanism between all the sons and daughters of this continent," said President Uhuru. "The shortest path to national as well as continental peace and prosperity is for the African nations to come together as one."
SEE ALSO: Counties race to set up key facilities, two days to decisive moment
President Uhuru Kenyatta said that his administration has promoted free movement of goods and people in the East African region by eliminating work barriers for every east African who wishes to work in Kenya.
Immigrant labour
Contrary to the notion that immigrant labour causes shrinkage of the economy, President Uhuru Kenyatta said that it hastens the nation's prosperity. "Kenyans understand that the businesses of foreigners add vibrancy and vitality to our economy and increase the opportunity for Kenyans to advance themselves economically." President Uhuru Kenyatta pledged his support for the Trade union through an annual grant of Sh20 million to advocate for the Pan-Africanism agenda
.
SEE ALSO: Uhuru's dilemma: Open the country, risk more deaths
Unemployment
As a parting shot, President Uhuru Kenyatta expressed concern over unemployed Africans who cross the Mediterranean to work under inhumane conditions to earn a living. He called for the unity of African nations to solve the unemployment crisis. "It is very sad and disheartening to see our sons and daughters crossing the Mediterranean, being humiliated in foreign lands because we cannot come together and provide employment, future, and hope for them."?