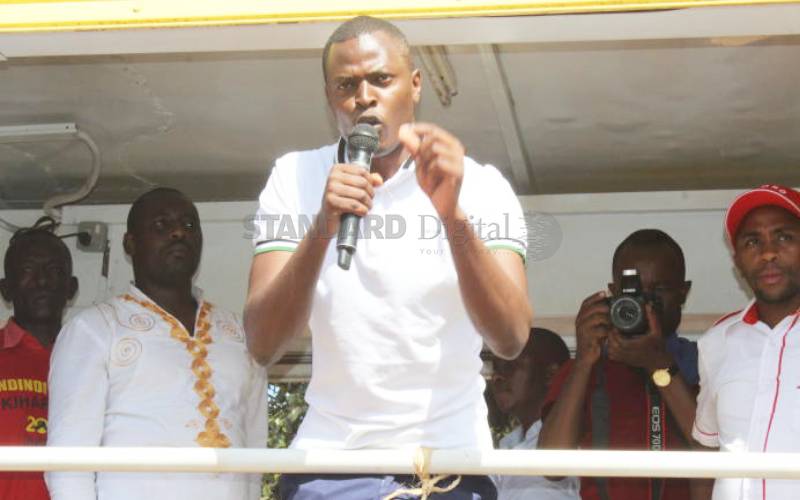 Commentary
Clearly, no cogent thoughts are given to the seismic problems afflicting Kenyans.
Several years ago in Malawi, the Justice Minister and the Solicitor General got into an altercation over the interpretation of a law. The law stated that "any person who vitiates the atmosphere in any place so as to make it noxious to the public in general dwelling or carrying on business in the neighbourhood or passing along a public way shall be guilty of a misdemeanour". Whilst the Solicitor General took a more general view, the Justice minister insisted on a narrow outlook that in essence, outlawed the breaking of wind in public. He said the new bill would "criminalise flatulence to promote public decency". Malawi's toilet humour seems to have found resonance with Kenyan legislators, at least, with Rangwe MP Lilian Gogo. In a recent parliamentary debate, she complained that she has had to endure flights because "there is one irritant that is often ignored, and this is the level of farting within the aircraft". She has called for the enactment of legislation to combat this. If Rangwe is similar to other constituencies, the vast majority of its inhabitants may not identify with their legislator's views. Relatively few have come into close proximity with an aircraft, let alone fly in one. Fewer still have access to affordable, nutritious food, the kind that would keep flatulence at bay. Many subsist below the poverty line, that is, on less than a dollar a day. One wonders whether the legislator is speaking for those who sent her to Parliament. But Honourable Gogo is not alone in the apparent disconnect between parliamentarians and those they represent. The conduct of many legislators both in and out of the august House leaves a lot to be desired.
Articulate debater
The absurdity of discourse on the floor of the house shows just how far the degeneration has been. Gone are the days of the legendary Martin Shikuku who took on the Government of the day when he declared the ruling party Kanu "dead". Equally fearless was another articulate debater, Jean Marie Seroney, who supported Shikuku when he was asked to substantiate by saying there was "no need to substantiate the obvious". These were statements made under pain of death, but such were the convictions of the legislators of that time that they were prepared to die for their ideals. The 12th Parliament has achieved some notoriety for conduct unbecoming. Sample this: Starehe MP Jaguar and his Embakasi counterpart Babu Owino resorted to fisticuffs in the precincts of parliament, after an altercation. Kiharu MP Ndindi Nyoro and nominated MP Maina Kamanda nearly traded blows in a house of worship. Other legislators went to Russia on a publicly funded jaunt. This was ostensibly a fact-finding mission on how to improve Kenyan football, never mind that none of them had ever attended a local football game.
Exploiting loopholes
Still another demanded an expensive business class upgrade because the seats in coach were not amply padded to accommodate her expansive derriere! Within the august House, parliamentarians only excel at exploiting loopholes that give them undue advantage. They are adept at perfidious schemes to defraud taxpayers through inordinately high self-awarded benefits. Where the constitutionally mandated Salaries and Remuneration Commission has intervened to fix MPs' allowances, they have reacted by threatening to stymie the commission's activities through cut-backs on their allowances. The Punguza Mizigo initiative to reduce the burden on Kenyans through a referendum to amend the Constitution has suggested a reduction of MPs from the current 416 to 147. MPs have vowed to slow debate on this proposal until the life of the Parliament lapses. Clearly, no cogent thoughts are given to the seismic problems afflicting Kenyans. The President's four pillars of food security, affordable housing, universal healthcare and manufacturing have long been relegated to the back-burner. It is as if MPs are incapable of abstract reasoning and only come alive to demonstrate legislative recklessness which, wisely, has been rendered nugatory by lack of presidential assent. Kibra Constituency faces a by-election after the death of luminary MP Ken Okoth. Some of the contenders don't inspire much confidence. Kibra deserves another great leader. One hopes that the people will choose wisely, eschewing the vacuous types who vitiate the atmosphere with their actions. Kibra is, after all, no longer content to be known for "flying toilets".
Mr Khafafa is a public policy analyst