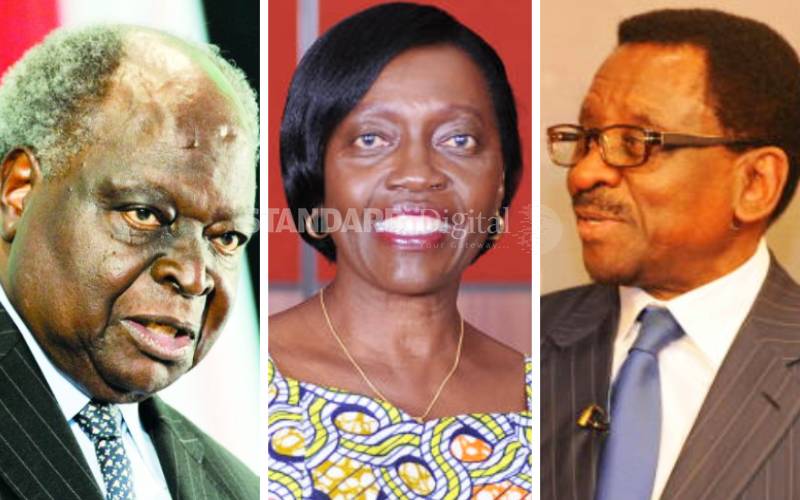 Commentary
They have no views when businesses close in Nairobi or decide to move shop to Rwanda and Ethiopia.
There was a time that being a leader in this country meant something. There was a time when one was called a hero, you knew they had shed blood, sweat, tears for a worthwhile cause. Our politics then had a vision and a purpose. We knew what we wanted and we could identify leaders who would take us there. This was the time when visionaries such as Martha Karua, Stanley Matiba, Mwai Kibaki, James Orengo, to mention but a few, would grace the floor of parliament with poignant and transformational ideas and points. Wangari Mathai saved our forests and parks and paid both a personal and political price. Kibaki campaigned while in a wheelchair. While many other leaders had stints in police custody that changed them forever. One of these leaders was the departed Matiba who, all would agree, was a bona fide leader and hero. It is therefore very saddening for me that today's heroes are those who fight in public for no other reason than to gain political mileage.
SEE ALSO: Political ambitions should not cloud service delivery
There is no other reason for this new revolution and band of "heroes" other than their right to defend 2022 and, while at it, divide us. During their campaigns, these leaders make all manner of promises—most of them false. Usually, they are less concerned about unfinished projects such as stadiums, or even how far Last Mile connectivity has gone. Instead, they are more worried about promises; that one leader should lead for 10 years and another for 10 years as if the Kenyan vote is something to be pledged and given without even evaluating performance. These leaders have spoken nothing about the xenophobic attacks meted on our brothers in South Africa. They have not organised demonstrations outside the South African embassy to demand justice for our victims. Instead, they demonstrate outside and inside churches defending God-knows-what from God-knows-who. The same leaders usually say nothing when our athletes break records as happened last weekend. They keep mum when a young girl kills herself after a teacher makes fun of her menses.
SEE ALSO: New Joho, Shahbal bromance stirs Coast succession debate
They are silent over the rising cases of suicide and tight-lipped on concerns raised by the Auditor General. They speak nothing about the CBC and know not what the teachers are saying about it or even the Ministry of Education. They have no views when businesses close in Nairobi or decide to move shop to Rwanda and Ethiopia. They are not concerned about how much oil is being produced in Turkana or even the cost of potatoes from Kinangop. They do not care that five counties may face drought soon. All these matters do not disturb our new heroes' minds.
SEE ALSO: Western leaders hold strategy meeting, eye bigger stake in politics
Our heroes are a sham. They are a band of untrustworthy and uncouth misfits who have taken on mantles they are scarcely worthy to wear. The mantle of such people as Matiba or even Kibaki should not be bequeathed someone who has no idea how GDP can be translated to the lowest echelons of Kenyan society. A Kenyan hero is not one who is good at organising small crowds to demonstrate in the streets. Kenya is becoming the kind of dystopia that Socrates feared would be created in a democratic society. He feared that when a population is unable to make sober decisions on her leaders, then democracy would fail miserably. In Kenya this is glaringly apparent. If you consider the number of leaders who are implicated in criminal activities today, then you will know we the voters have no idea what we are doing and Independent Electoral and Boundaries Commission might need to vet our sanity before allowing us to vote.
SEE ALSO: Public interest litigation and expansion of rights
We are a country that has voted in prison prefects, people who have kicked people on national TV and people with tainted pasts into political office. We have lost direction as a nation. Popularity is all we want to see in a leader. We demand no agenda or even look at a candidate's track record. All we do is focus on how popular someone is in their tribe and they automatically become front runners in elections. Never mind their track record or their history, all that matters is their popularity and right to rule in 2022. The other side of our impending democratic apocalypse and of what Socrates feared, is that we are a nation full of people with rotten teeth and all the people running for office are sweet merchants. We hate and vilify the dentists while we praise the sweet merchants as our teeth fall out one by one. We do not think of tomorrow for we want to be high on sugar today, who cares about chewing food tomorrow?
SEE ALSO: If Kenyans elect Ruto as President they will regret — Atwoli
It is this toothless mass that we expect to make sober decisions in 2022. It is from a bunch of sham heroes and sweet merchants that we must choose leaders. At the same time, it is from this mix of incompetence, selfishness and foolish bravado that we expect the great ideas of the future. May God save us from our special brand of stupid and our pretend heroes. For verily I tell you, these are no heroes and our hero worship is like the masses crying for Barabbas while Jesus hangs on the cross.
Mr Bichachi is a communication consultant. [email protected]