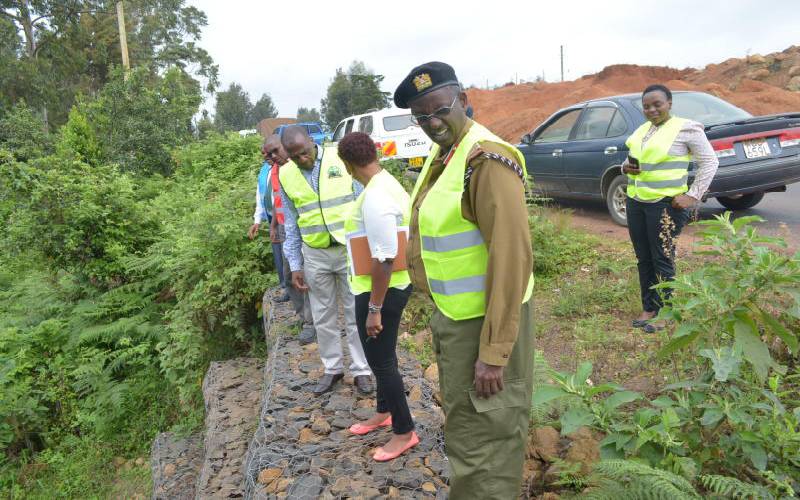 For over three decades, residents of Mioro and Njumbi in Muranga county have suffered because of the poor state of a key road. They have endured sections that become no-go zones when it rains, and extreme dust during the dry season as a project to build a 41km road faced numerous hurdles. Locals along the Saint Mary-Gitugi-Mioro road have watched as their produce rot in the farms because of lack of reliable transport to the market. They were often forced to ferry expectant women and the sick on stretchers to Kwa Waithaka junction on the Kiria-ini-Kangema road in search of matatus. Stephen Wamuga and Rachel Njambi said milk and farm produce often went to waste because vehicles could not access villages during rainy seasons.
Long-distance walks
Ms Njambi, a resident of Mioro village, said expectant women suffered the most as they trekked long distances to access ante-natal services. "It is a joy the road is nearly complete after intervention by our leaders after three decades," she said. Mr Wamuga said it used to be a challenge to transport green tea leaves because trucks got stuck along the way, forcing farmers to spend a lot of time at tea collection centres. "The completion of the road is a milestone after years of frustration," he said, adding that urban dwellers were often unable to visit their families during rainy seasons. Peter Karanja, who hails from Chui village in Gitugi, said many economic activities stopped during rainy seasons when the road became impassable. "Trucks could not access coffee factories to transport processed cherries," he said. But there is light at the end of the tunnel as works on the county's major transport artery nears completion. Nyoro Construction Company officials said they were doing finishing touches and the road should be completed by December. When the road project started 31 years ago, the Government had not even set up the three agencies that manage the country's roads, or established the Kenya Roads Board. Construction has dragged on through several changes of government, promulgation of the Constitution and establishment of county governments. Political intrigues also surrounded the road's construction, which had been awarded to Firoze Construction Company Limited, involving powerful politicians Joseph Kamotho and John Michuki. After Firoze Construction abandoned the project, Nyoro Construction was awarded the project in 2012.
Remove fences
But the company quickly ran into problems after residents refused to remove fences and other structures on the road reserve. Utility firms like Kenya Power and Gatamathi Water Company also delayed the project after failing to promptly relocate electrical and water lines. In 2017, Transport CS James Macharia inspected the Sh2.1 billion project and directed that the works be split into two. The project, on advice of the CS, was divided into the Saint Mary-Gitugi section, which was to be handled by Nyoro Construction, while the Njumbi-Mioro seven-kilometre section was handed to a Chinese contractor. Michael Kariuki, a director at Nyoro Construction, said the design review was among issues that caused delays. Mr Kariuki said a three-year contract at the debut stage had been reviewed on several occasions, leading to extension of the completion schedule. "From Mioro to Njumbi, the section had been chaotic during rainy seasons. The stretch is in a perfect state after decades of vehicles being stuck during heavy rains," he said. The director also noted that project costs had not been reviewed despite design changes in the contract period.
Delayed payment
Kariuki said the other hurdles they faced, at the initial stage, included lack of suitable materials, delayed payment and delays in accessing construction details. Murang'a County Development Implementation and Coordination Committee chaired by Mohammed Barre visited the project as part of a monitoring programme. "St Mary-Mioro road has delayed for long but once completed, it will give Kenyans value for money," said Mr Barre. Kenya Rural Roads Authority Central Region Manager Joseph Wanjohi said strategies were in place to ensure the project was completed as scheduled. "The contractor is currently working on a bridge that will connect the project to St Mary-Irima road. The project has eased transportation of goods in the upper parts of Murang'a town," said Mr Wanjohi.