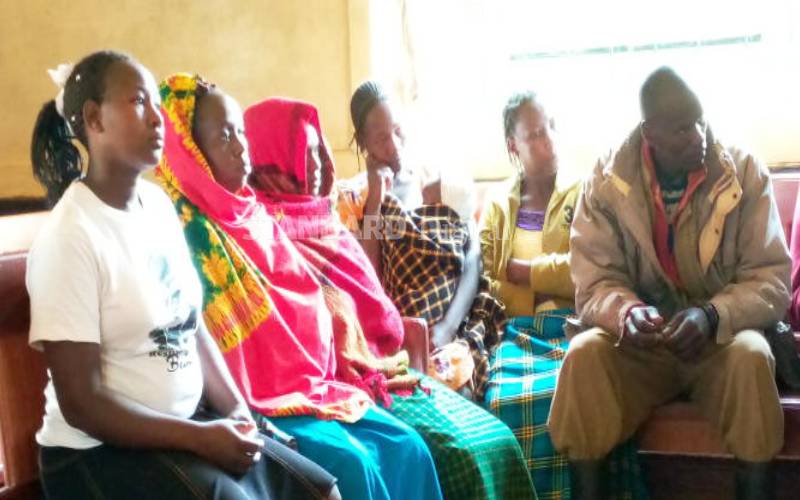 Five women were convicted for willingly procuring Female Genital Mutilation (FGM) services for themselves. Florence Kiende, Caroline Wanja, Charity Karimi, Charity Muthoni and Winfred Kawira pleaded guilty to the charge of seeking and undergoing FGM at Kiagu in Central Imenti when they appeared before Githongo Resident Magistrate Evelyn Wachira Ndegwa. The court heard that the women sought the services on diverse dates this year. The DPP also introduced P3 forms corroborating occurrence of the incidents before the court.
SEE ALSO: Coronavirus puts millions more at risk of child marriage and FGM: U.N.
Kiende, 28, who is accused of seeking the services of a local FGM practitioner on July 14, 2019 at around 9pm told the court she decided to get circumcised because her grandmother told her it was best. She further asked for forgiveness. Wanja is accused of undergoing circumcision on August 29 at around 8pm at Kanyuii sub-location. She was arrested after chief Titus Kinyua received a tip-off from the public. Karimi is said to have undergone the procedure on July 14 in Kathwene sub-location at around 6pm. She was also arrested by chief Kinyua following a tip-off. Kawira, is also accused of undergoing the cut at Makandune sub-location on July 14. She told the court she had a young child and asked for forgiveness.
SEE ALSO: Reformed FGM promoter quits practice, hands over tools of trade
The court heard that Charity Muthoni underwent the procedure on August 28 at Chura sub-location, knowing it was a risk to her health. She was taken to Githongo sub-county where an examination revealed septic wounds on her private parts which were treated. The women were handed a three year sentence with an option to pay a Sh200,000 fine. Imenti Central Sub-County Commander John Tarus issued a strong warning to women seeking services of FGM practitioners across the county. He said the practice has been overtaken by time and perpetrators would face the law.