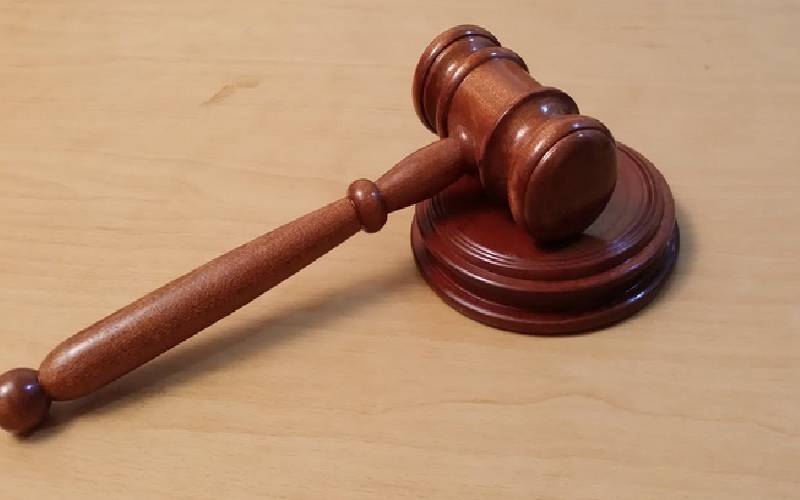 A man jailed for life for defiling a minor has had his sentence reduced to 30 years. Alfred Dismas Ochango was jailed after being found guilty of defiling a six-year-old nursery girl on March 10, 2016, at Ebukanji village in Khwisero sub-county. In his judgement, Butere Senior Resident Magistrate Felix Makoyo said the accused was well known to the complainant thus dismissed any possibility of mistaken identity. Consequently, he jailed Ochango for life, saying his hands were tied since the Sexual Offences Act was clear that the sentence to be meted out to a person who defiles a minor under the age of 11 is life in jail.
SEE ALSO: Kisumu cop accused of defiling girl aged 15, impregnating her
Aggrieved with the sentence, Ochango moved to the High Court, saying he was convicted on doubtful, fabricated and uncorroborated evidence. But in his judgement, Justice David Majanja said the evidence against Ochango was overwhelming but reduced his jail sentence to 30 years. The magistrate's court was told that the complainant's brother saw Ochango call her to his house before she was heard crying.
Discharge
The boy rushed and informed their mother that the complainant was crying in the house of Ochango.
SEE ALSO: ANC, Ford Kenya suffer major blow at county assembly
The two proceeded to the said house but were met by a fleeing Ochango. The mother noticed a discharge from her daughter's genital and upon careful examination, she noticed it was swollen. She raised the alarm and the public apprehended Ochango, while the girl was taken to Khwisero Health Centre. Medical examinations confirmed the girl had been defiled and the family reported the matter at Khwisero Police Station. The trial magistrate dismissed Ochango's defence that he was being pursued by his step-brother due to a land dispute.
SEE ALSO: DPP temporarily stops prosecution of county secretary
In his appeal, Ochango told the High Court that the magistrate shifted the burden of proof to him rather than to the prosecution. However, Justice Majanja yesterday endorsed the conviction, saying the evidence on record was sufficient. He further said that medical documents corroborated the evidence of the prosecution witnesses. "I reject the defence's claim that the case was fabricated due to a protracted land tussle. I find no merit in the appeal and dismiss the same," said Justice Majanja. Ochango was granted 14 days to lodge an appeal at the Court of Appeal.